Hollyoaks abuse trial: 'The truth about Pete dawns on Cleo,' reveals Nadine Mulkerrin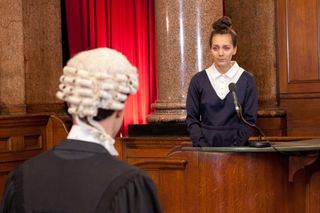 Pete tells Cleo to tell the truth when she gives evident in his abuse trial in Hollyoaks, then promptly portrays her as a liar, says Nadine Mulkerrin
Cleo McQueen is conflicted when she finally faces her abuser, Pete, in court. Will justice be served? Nadine Mulkerrin (opens in new tab) reveals all to Soaplife...
How does Cleo feel about paedophile Pete's trial? "She's massively conflicted. She hopes he's found innocent so they can run away together. But that's because she's been groomed from an early age. She has all her family urging her to tell the truth. Like many girls in her position, though, her abuser is the person she feels safest with. She thinks she's in a normal and loving relationship with Pete [Kai Owen (opens in new tab)]. She's in denial and not listening to all the people who are trying to help her."
Does she really think they can be together? "Yes, she does. She wants to run away with him. He's her friend and the only one who knows about the car crash and the truth about Holly [Amanda Clapham (opens in new tab)] and Nathan [Jared Garfield (opens in new tab)]. She feels safe with him, which is so sad. No matter who tells her it's wrong, she's not having any of it. She's adamant he won't go to prison because he hasn't done anything wrong."
How does Cleo feel when her mum, Reenie, shows up? "She loves her mum to bits, but she thinks she has the potential to ruin her plans. She's written her mum off as an alcoholic and there are some angry shouting scenes between the two of them."
How does Cleo cope when she's interrogated by the defence? "Pete's been very clever and he's told her from day one to tell the truth, but he fights against it and makes her sound like a liar."
Does she realise she's been used? "Pete's testimony confuses her. She's like, 'Why has he just stabbed me in the back like that?' The cogs in her brain are whirring and, eventually, she realises he has no loyalty to her."
How do you feel about the story reaching a climax? "I knew when I started that Pete would get justice and there would be a trial. It feels amazing to have completed it."
Where does Cleo go from here? "She deserves a bit of happiness now, so she's going to have fun with her friends and gain some normality. It's nice to do smiley scenes and not be crying all day at work."
Hollyoaks (opens in new tab), Channel 4
Thank you for signing up to Whattowatch. You will receive a verification email shortly.
There was a problem. Please refresh the page and try again.