Hollyoaks wedding twist! Leela Lomax's big day drama!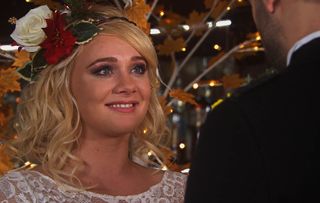 Leela is all ready to marry killer Cameron Campbell. Will she find out the truth about him before it's too late? Kirsty-Leigh Porter tells Soaplife there's a big twist!
How does Leela feel about marrying Cameron? "She is really happy that everything she ever wanted is there for her – Cameron, her family and a baby on the way. She hasn't noticed anything strange about his behaviour." What happens as she prepares for her hen party? "She thinks she is being selfish as she's planning a night at The Dog, but Cameron has nobody. The one person who was there for him is Lockie, so Leela mentions that she is sad that he isn't coming to the stag do. Obviously, she doesn't realise the significance of this." What happens at the hen do? "Cameron tags along. Tegan asks Zack Loveday to be a stripper for the evening, but Cameron gets so angry when Zack gets up close to Leela, he punches him. She is horrified and thinks he's gone way too far." That must put a dampener on the party? "Leela sends Cameron home and says he's ruined the hen do. When she gets back, Cameron is not there, so she falls asleep on the couch. When she wakes up, he still isn't there and she starts to worry and wonders if he has run off because of their row." Cameron has suddenly got a guilty conscience and written a confession letter… what happens to it? "Leela is getting ready when Peri comes in with the letter. Leela wonders if he left it the night before." What will she think of the contents? "If she reads that letter, I don't think she would believe it. She has known Cameron since they were 14 and knows him better than anybody. He has got a bad attitude, but in her eyes he is no killer. I think Leela would wonder why Cameron was telling all these lies." How does Courtney trick Cameron into coming back? "She makes up a lie and says that Peri has been in an accident." Leela and Cameron make it to the altar – do they tie the knot? "Looking at it from the outside, you might for a moment think that they are a nice, normal looking couple about to be married. Of course there is a twist and it will be huge."
Get the latest updates, reviews and unmissable series to watch and more!
Thank you for signing up to Whattowatch. You will receive a verification email shortly.
There was a problem. Please refresh the page and try again.