Monday's Hollyoaks on Channel 4 is going to look very different!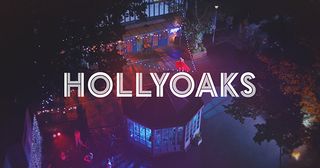 Six years after Hollyoaks gave its titles a refresh, the series is launching a whole new opening sequence – and it will sound different, too
Hollyoaks has added so many new faces in recent months that its opening titles, featuring all the characters in the village, were in danger of running as long as the actual drama.
Well, maybe not quite…but they had got longer. And it's clear that not only viewers had noticed.
Because from Monday, September 5, viewers will see Hollyoaks start in a very different way, moving away from the CGI style to scenes filmed at different locations in the village.
The series' new Executive Producer, Bryan Kirkwood says: "I am thrilled with the new titles. I think they are vibrant, fun and glossy and from the first opening guitar riff feel completely Hollyoaks.
"It is great to see our characters in their own precincts and they will evolve as characters come and go."
There's a new logo, too and the title music has been refreshed, with a new arrangement by A-Skillz.
Set across day and night scenes, the titles open with recovering drug addict Ste Hay (Kieron Richardson) riding a carousel with his children, Leah and Lucas. Very appropriate, really, as Ste's relationship with his kids goes round and round in circles…
They also feature Sienna Blake (Anna Passey) laying on a bed of leaves, possibly blown from the trees by one of the storms that regularly rage through Sienna's life. Or… Sienna is laying where her father Patrick was buried, in the local woods. She always wanted to be close to him.
Sienna's daughter, Nico Blake (Persephone Swales Dawson) is seen standing ominously in front of a burning fire… Or is she in it? There are those who would definitely want to see her burn in hell. She has, after all, killed her grandfather Patrick [Jeremy Sheffield], her mother's lover, Trevor Royle [Greg Wood] and Carly Bradley [Sophie Wise], daughter of Ben [Ben Richards], the man her mother almost married.
Holly Cunningham and Zack Loveday (Amanda Clapham and Duayne Boachie) will be seen having a water fight in a hot tub. Well, that's less complicated than them sleeping together…
The last shot of the titles shows Hollyoaks village at night, with Mercedes McQueen [Jennifer Metcalfe] – who has been slipping in and out of the village for 10 years, twirling in the moonlight in a red dress. Ah, the Scarlet Woman…
As with the old style, new characters will also feature in the scenes, including former Waterloo Road and Casualty star Chelsee Healey, who has joined the soap as a new McQueen character called Goldie.
Hollyoaks continues, with its new titles, on Channel 4, Monday, September 5.
Get the latest updates, reviews and unmissable series to watch and more!
Thank you for signing up to Whattowatch. You will receive a verification email shortly.
There was a problem. Please refresh the page and try again.