Coco has a seizure as a result of her eating disorder, says Anna Cocquerel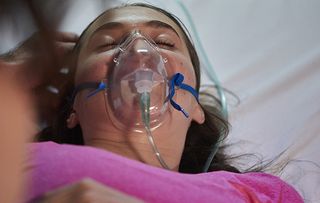 Coco Astoni collapses in Home and Away...
Nothing ever stays secret in Summer Bay for long, so it was only a matter of time before Coco Astoni's secret eating disorder was out in the open.
What's the story?
"Coco's parents first become aware something is seriously wrong when Coco suddenly collapses with a convulsion while outside in the blazing heat because she hasn't eaten a thing all day," reveals Anna Cocquerel, who plays the youngest member of the Astoni family. If Coco recovers, will she finally come clean to her mum and dad?
What's happening in Home and Away? See the latest soap storylines
Anna Cocquerel reveals all to Soaplife
Soaplife: What do Coco's parents think is wrong with their girl when she collapses?
Anna Cocquerel: "They don't know and they're still none the wiser when Coco comes round in hospital. Tori Morgan, who's treating Coco, knows only too well what's wrong, but Coco is adamant that the doctor doesn't tell Maggie and Ben. When Tori says she wants to speak to her, Coco insists they speak alone."
S: What happens next?
AC: "Tori tries to persuade Coco that they should tell Maggie and Ben. Coco's adamant that they don't, saying that it's her body and it's her choice, and she has everything under control. She doesn't, of course."
S: Can't Tori just tell them?
AC: "No. Her hands are tied, even though Ben and Maggie are Coco's parents. All she can do is reassure them that while Coco's in hospital, she'll be OK. Plus, she says she'll try again to persuade Coco to talk to them. Maggie and Ben are deeply suspicious. In addition to being very worried about her, they know she's hiding something."
S: Why is Coco so against her mum and dad knowing about her disorder?
AC: "Coco's a sweet girl with a deep inner strength. But like so many teenagers today, she has personal battles that are extremely challenging for her to deal with. She truly thinks she can handle her eating disorder alone. She's just not facing up to the seriousness of her condition."
S: So does she finally agree to tell them?
AC: "No. But they do find out and they're furious that the person who reveals the truth hasn't said anything before."
S: Coco's sister, Ziggy, knows her secret. Is it Ziggy who tells them?
AC: "I'm not saying, but the revelation has serious repercussions for the whole Astoni family."
Home and Away, Channel 5
Get the latest updates, reviews and unmissable series to watch and more!
Thank you for signing up to Whattowatch. You will receive a verification email shortly.
There was a problem. Please refresh the page and try again.