Video: Home and Away to air most violent episode yet with brutal scenes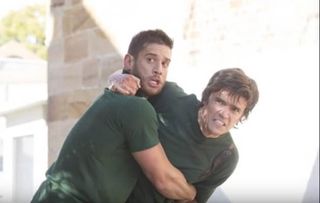 The Aussie soap takes a very dark twist later this month in a special episode likely to air in the UK later this year
Home and Away's idyllic Summer Bay will transform into a brutal blood bath as the soap airs its most violent episode yet in Australia on January 26.
Producers even needed to secure a special adult-only slot in the Aussie TV schedule in order to air the shocking scenes that will feature in "All or Nothing" – the show's darkest ever script - centred on brutal violence inside a prison where drug dealer Trevor 'Gunno' Gunson (Diarmid Heidenreich) and Kyle Braxton (Nic Westaway) are serving time.
Filmed at Sydney's Parramatta Correctional Centre, they will be at the heart of the action as a brawl breaks out, says The Sun.
Gunno instigates the violence as he tries to kill Kyle and his brother Heath (Dan Ewing) who is visiting with wife Bianca (Lisa Gormley).
Teaser shots show Kyle's face switching to pure horror as he watches the bloody action unfold.
Meanwhile he tried to play the hero role by hauling an injured prison officer to safety.
Kyle's visitors are then left to watch on in terror with their mouths wide open.
Fans favourite Irene Roberts (Lynne McGranger) and Martin "Ash" Ashford (George Mason) will also feature yet few details have been revealed about what roles they will play - and if there will be any casualties.
Lynne's Tweeted this about the special episode…
Viewers can be sure they are in for explosive drama as Parramatta residents were warned about the gunshots being fired during the filming.
It is likely that Channel 5 will broadcast the special later this year. We will announce any confirmation of that nearer the time.
https://youtu.be/bKSk49ZxWxU
Home and Away, Channel 5 weekdays
Thank you for signing up to Whattowatch. You will receive a verification email shortly.
There was a problem. Please refresh the page and try again.