Home and Away's Scott Lee: 'Hunter is over the moon because he thinks he's found his dad!'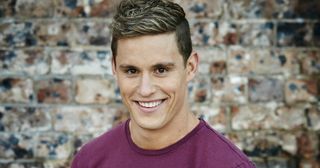 Hunter King tracks down the man he believes to be his father… but the man in question insists that he can't be, reveals Summer Bay star Scott Lee…
After a whole lot of heartbreak, Home and Away's Hunter King thinks he's finally tracked down his real dad in Wally Mason. But when the two meet, Wally says there's no way he can be his father, even though he had an affair with Hunter's mum and the two men look alike.
Actor Scott Lee told Soaplife that Hunter's not convinced…
How does Hunter feel when he first meets Wally? "He's over the moon because he thinks he's found his father. It's one of those big moments you have in your life. But then Wally tells him he's infertile because he had mumps as a child and this means he's unable to have children – the proof being that he and his wife have never had kids, even though they tried for years."
Does he believe Wally's story? "Not really. It sounds like a really poor excuse. Wally's never actually had a fertility test. His mum told him he was infertile because he contracted mumps and the lack of children with his wife has proved this to him."
So Hunter asks Wally to take a DNA test to settle things once and for all? "It's Olivia Fraser Richards who encourages him to ask Wally to do a DNA test. Having had dinner together, the next morning, Wally tries to give Hunter a list of possible names of people who he thinks could be his dad. Hunter dismisses this and asks Wally to do the DNA test!"
What's Wally's reaction? "He refuses to begin with, but then he takes the kit away with him. He tells Hunter never to contact him again. At this point, Hunter genuinely he'll never hear from Wally again."
The poor lad must be gutted! "Yes. He feels more alone than ever…"
How will he feel if Wally does do the DNA test and it turns out that Wally is, indeed, his father? "He'll be overjoyed. The biggest thing Hunter wants is a real family and it was his mother's wish for him to know his father."
Do you think there could be a bond between them? "For Hunter's sake, I'd like to think so. But there hasn't been so far. Their relationship is very forced and awkward, but Hunter wants to gives it a go."
Get the latest updates, reviews and unmissable series to watch and more!
Thank you for signing up to Whattowatch. You will receive a verification email shortly.
There was a problem. Please refresh the page and try again.