Is Ricky and Nate's marriage on the rocks in Home and Away?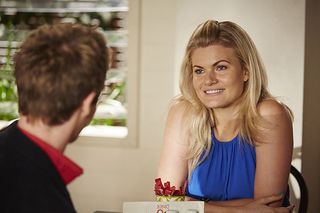 (Image credit: Jeremy Greive)
The newlyweds do their best to put a brave face on things but it's clear their relationship is under great strain.
Ricky and Nate are trying to paper over the cracks in their marriage but ever since the caravan explosion, tensions between the pair have reached a new high.
Ricky's devastated the blast has left her unable to have any more children, meanwhile Nate is doing his best to reassure her they'll pull through this together. When the doc gets an interview for a promotion at work he sees it as the chance to make a fresh start but his optimism is short-lived when he loses out and the senior role goes to newcomer Tori.
Plunged into a bad mood, Nate's gutted he's missed out and he and his wife are soon bickering again when they later go house-hunting. Can the pair tackle their problems head on or is this going to be one of the shortest marriages in Summer Bay?
Ricky arranges to meet her hubby at the Diner, he's pumped up after his job interview and brimming with enthusiasm.
The pair chat about some of the problems they've had but are both determined to give their marriage their best shot.
Later on Ricky prepares a celebratory meal at home for Nate but he breaks the news that he lost out on the job. Tori got it instead.
Ricky tries to be supportive but Nate continues to bottle up his emotions. Tensions soon flare between the couple and a stressed-out Ricky confides in Phoebe that she thinks she made a big mistake getting married.
As the gulf between Nate and Ricky continues to grow could it really be the end of the line for these two? Watch Home and Away on Five from Monday, July 4.
Get the What to Watch Newsletter
The latest updates, reviews and unmissable series to watch and more!