Alf Stewart is attacked in Home and Away!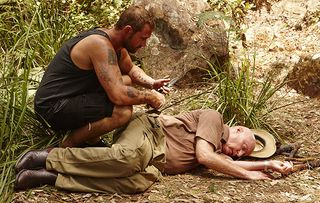 Alf Stewart is attacked by a stranger who then runs off with his knife.
Alf Stewart is out for a day's fishing with Justin and Scarlett when things take a turn for the worst. Someone is watching them afar and sees to it that Alf's boat won't start for the return journey to Summer Bay.
The trio is forced to spend the night out and Scarlett starts to get a funny feeling about the situation they're in, but Alf's determined to show her there's nothing to fear. There IS something for Alf to fear, however, and he learns it the hard way when a mysterious stranger knocks him out cold before taking off with his knife!
But who is this deranged guy? And why is he attacking Alf?
Alf is knocked out by a mysterious man who then steals Alf's knife…
Alf is knocked out by a mysterious man who then steals Alf's knife…
Out fishing with Scarlett and Justin, Alf and co find themselves stranded when Alf's boat fails to start…
As he searches for wood to make a camp fire, Alf has no idea someone has been watching him from afar…
The man takes a swing at unsuspecting Alf!
Alf's knocked out cold!
Before leaving Alf on the forest floor, the man steals his knife.
Later, worried Scarlett is out looking for AWOL Alf when she sees the mysterious man and senses they're in trouble…
Scarlett tries to stay out of sight. Will Scarlett, Alf and Justin escape with their lives? Watch Home and Away on Channel 5 from Monday, August 28
Get the latest updates, reviews and unmissable series to watch and more!
Thank you for signing up to Whattowatch. You will receive a verification email shortly.
There was a problem. Please refresh the page and try again.