Ant and Dec: 'We have to be careful not to say what scares us!'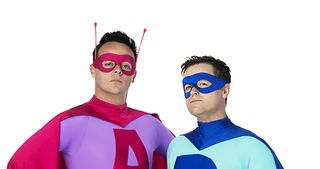 (Image credit: ITV)
Geordie lads, Ant and Dec, both 39, talk toTV Times about the return of their star-studded but slightly scary Saturday night extravaganza and why they nearly said no to hosting The Brits this week (Saturday, ITV1)...
Hello boys, we're so glad Saturday Night Takeaway is back!
Ant: "Us too! It's only on TV for seven weeks, but we spend the rest of the year developing ideas so it's quite a beast. We're very excited to be back on air."
Dec: "It's a very special show for us and we're raring to go. It's so cold at the moment and people are saying the telly's not as good at this time of year, but we're hoping Takeaway will be a joyous 75 minutes every Saturday night. We want to fight those winter blues!"
What can we expect this year?
Dec: "Every week's going to be different and we're going to play tricks on the audience and people at home – we've done loads of hidden camera filming already. Plus we've got a shiny new app so viewers can decide who they think will come out on top in Ant vs Dec. I'll give you a clue right now, it's going to be Team Dec."
Ant: "We'll see about that."
There's always a tense moment when the Ant vs Dec challenge is revealed. Sometimes you face terrifying challenges such as abseiling down ITV Studios – will you ever refuse a task?
Ant: "If it was just a general Monday afternoon I wouldn't do half the things they ask us to, but it's live Saturday night telly and you look a bit of a wimp if you pull out, so we kind of have to do it. Plus if we say no we've got 10 minutes of TV to fill!"
Dec: "So we're kind of forced into doing it, we don't really have much of a choice."
Dec, you have a phobia of birds. What if there was an Ant vs Dec challenge involving pigeons?
Dec: "Yeah, now I would be awful at that. It just wouldn't be very entertaining because I couldn't go anywhere near them."
Ant: "See I could do that easily, I'd love it. Let's do a pigeon challenge!"
Dec: "I think they realise there's a line. I don't know if a lot of people know this, but the producers of Takeaway also work on I'm A Celebrity, so they're very good at playing on people's fears and pushing them to their limits."
Ant: "We have to be careful not to say what scares us!"
We love the I'm A Celebrity…Get Out of Me Ear feature, where you feed silly lines to famous people through an earpiece. Have you planned some more for this series?
Ant: "Yes, we've done a few. We've just finished filming one with Cheryl Fernandez-Versini."
Dec: "It's amazing! She's so good."
Ant: "She was brilliant, there was not one thing she wouldn't say and we did push her."
Dec: "She was really nervous to start with but soon she was saying, 'Ooh I'm really enjoying this!' We've done some brilliant hidden camera hits too. We sprung a surprise on Olly Murs for show one, which was a lot of fun and he was a great sport. It's shaping up to be a really strong series."
You're hosting this year's Brit Awards, but your association with the event hasn't always been happy. As PJ and Duncan you arrived late to 1995's ceremony, having chosen to travel in an ice cream van, and in 2001 you admitted nerves stopped you enjoying the hosting experience. Are you going to have fun this year?
Ant: "Yes, we've made a pact to make sure we enjoy it this time."
Dec: "And we're getting a car – no ice cream vans! When we first got asked to host this year's show we said no. Then we got off the phone and started chatting to each other and after half an hour we'd talked ourselves into it.
"The first time we hosted we were so scared of anything going wrong, but now we actively encourage stage crashers. We're going to have a great night. It's The Brits, you never know what's going to happen next but you just have to roll with that."
Are you up to date with modern music?
Ant: "A lot of the artists on The Brits this year have sold so many albums, both here and in the US, that you can't fail to have heard them. It's great, it feels like we've really got something to celebrate."
Dec: "When you look at Ed Sheeran, Sam Smith, George Ezra and Paloma Faith, these are not just Radio 1 artists, they're popular across the board. It's a really strong time for British music."
You're currently filming auditions for the next series of Britain's Got Talent. Have you found any stars yet?
Ant: "Let's be honest, some of the acts are horrendous, but we've found some good talent too and we've already pressed our golden buzzer to put an act straight through to the semi-finals, we did that on the very first day! We're having a lot of fun and the great thing about BGT is the variety: one minute it's a drag act and then it's a dancing dog."
David Walliams recently beat Simon Cowell to the gong for Best TV Judge at this year's National Television Awards. Has he been gloating?
Dec: "Oh my God it's hilarious! He has the award under the desk at every audition and any time Simon tells him off he just pulls it out. Simon's got absolutely no comeback to it. And whenever we introduce the judges we always welcome David as, 'Britain's Favourite TV Judge'. That constantly rubs Simon up the wrong way, he's genuinely bothered by it!"
Get the What to Watch Newsletter
The latest updates, reviews and unmissable series to watch and more!