Now Is Good - Dakota Fanning's dying Brit ticks off the items in her bucket list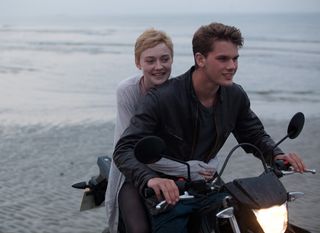 What could be more mawkish than a weepie about a dying girl? As tearjerkers go, no other storyline is better guaranteed to sell more boxes of tissues than popcorn.
Now Is Good, based on Jenny Downham's novel Before I Die, will certainly have viewers reaching for their hankies - and teenage girls will be gushing like fire hydrants - but it isn't nearly as slushy as you might expect thanks to a sparky lead performance by Dakota Fanning and her character's determination to live life to the full before she dies.
Fanning's 17-year-old Brighton girl Tessa has been living with leukaemia for four years. Her self-deluding dad (Paddy Considine) still clings to hope and bohemian mum (Olivia Williams) just pours another glass, but Tessa is resigned to her inevitable fate. She has a bucket list, too, and, egged on by pleasure-seeking best friend Zoey (Kaya Scodelario), sets about ticking off its contents, including shoplifting, taking drugs and losing her virginity. As for the latter, things look promising when handsome boy next door Adam (Jeremy Irvine) looms into view, but is he up to the emotional challenge of a terminally ill girlfriend?
As you'd expect, Now Is Good is clearly designed to tug the heartstrings, but writer-director Ol Parker and the superb cast admirably keep sentimentality at bay. Fanning may look angelic but she's no saint. She's wilful and prickly and doesn't suffer condescension (witness a squirm-inducing interview on local radio). Tessa's parents are far from perfect too, and Considine and Williams' performances convey their awkwardness in the face of their daughter's condition as well as their anguish. Fortunately, the film is funny and romantic, as well as sad. On top of which, Brighton and its surroundings are exceptionally photogenic, and Fanning, doing an excellent British accent, looks perfectly at home.
On general release from Wednesday 19th September.
Get the latest updates, reviews and unmissable series to watch and more!
Thank you for signing up to Whattowatch. You will receive a verification email shortly.
There was a problem. Please refresh the page and try again.