She Monkeys - Female friendship falls victim to vaulting ambition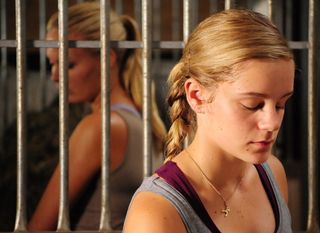 The obscure sport of equestrian vaulting forms the backdrop to She Monkeys, an intriguing and unsettling exploration of female friendship, rivalry and burgeoning sexuality that marks the debut film of Swedish director Lisa Aschan.
When motherless 15-year-old Emma (Mathilda Paradeiser) joins her local vaulting team, she immediately falls under the spell of the more assertive Cassandra (Linda Molin), the team's star. But as Cassandra goads and coaxes Emma into small acts of daring and rebelliousness, the balance of power between the friends slowly shifts. Meanwhile, Emma's neglected seven-year-old sister, Sara (Isabella Lindquist), is beginning to discover her own nascent sexuality.
Keeping dialogue to a minimum, Aschan draws striking, naturalistic performances from her trio of actresses, yet at the same time there is something dream-like about the unfolding drama, as Emma and Cassandra's ambivalent relationship slips and slides between mentor and pupil, love and hate, desire and aggression.
On release from Friday 11th May.
Get the latest updates, reviews and unmissable series to watch and more!
Thank you for signing up to Whattowatch. You will receive a verification email shortly.
There was a problem. Please refresh the page and try again.