Kara and Hannah Tointon: 'We'll be at Selfridges on the days that episodes air, waving people in!'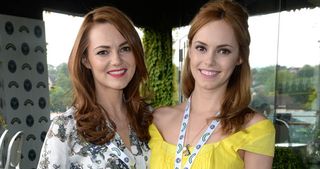 In a rare joint interview, sisters Kara (opens in new tab) (left) and Hannah (opens in new tab) Tointon talk to TV Times (opens in new tab) about playing siblings for the first time on screen in Mr Selfridge (opens in new tab) (ITV, Sunday) and their plan to boost sales at the iconic department store...
Apparently you thought you were both auditioning for the same part. Did this create any sibling rivalry?
Kara: "I said to Hannah: 'I won't go for it.'"
Hannah: "And I said, 'No, I won't go for it.' Luckily, someone eventually told us it wasn't for the same part! But then we were worried that one of us would get one and the other wouldn't. That would have been awkward!"
How did you feel when you both got the parts of Harry Selfridge's daughters, Rosalie and fiery Violette?
Kara: "They said we got the parts on our own merit. But I think the fact we're sisters might have had a little, five per cent, influence, we'd be stupid to say otherwise!"
So, how have you found working together?
Kara: "It's been really fun. We spent the first few days laughing or in corners asking each other: 'Did that go OK?' It's just lovely Hannah being there and us having lunch together. It's a one-off opportunity that probably won't happen again and we probably won't do it again, even though we've loved it."
Hannah: "Oh. Never?"
Kara: "I'm not saying never. But we don't suddenly want to be the sisters who only work as a duo! There wouldn't be that much opportunity out there for us."
You have appeared in a TV show together once before, haven't you?
Hannah: "Yes, in a Sky 1 football saga, Dream Team. Our characters weren't sisters or meant to be related, so when they realised we looked similar, they put us in different scenes and outfits. So we've never actually worked together."
Have you found any downsides to having your sister on set?
Kara: "Er Hannah, why are you thinking about it?! It should have been 'No' instantly!"
Hannah: "Well, erm, no. Only when she looks at me like: 'Stop saying something'.'"
Kara: "I suppose that's a normal sister thing that comes in. Normally when you go to work, there's no one who knows you to go: 'Stop that now'. So your freedom is taken away slightly – unconditional love can be harsh sometimes!"
What's the best thing about your sibling?
Kara: "Hannah's opinion is always right."
Hannah: "Aww. Kara's the most warm, giving person."
Kara: "Now I'm going to cry!"
When you were younger, did you both dream of being actresses, or did one of you lead the way?
Hannah: "It was a hobby and Kara definitely did it first. I was always quite shy."
Kara: "I always think, though, that I was incredibly shy. Then I watch videos of us and think: 'I really wasn't'. Our dad had to get up on stage once during his twenties and froze with nerves. He didn't want the same for us, he wanted us to always feel confident in a room of people so that's how we went down the drama route, we fell into it.
"And because of my dyslexia, I did so many things outside of school like different speech and drama festivals. I often had to recite poems, and Hannah would hear them and learn them off by heart."
Hannah: "There are videos of us where Kara does a version perfectly and then I just say the words not knowing what they mean!"
Kara: "It's odd because we're so close but very different, yet all our passions and hobbies have been the same."
Hannah: "Yes we also both love art. Actually, cooking is the one thing I like that you don't. "
Kara: "I wish that would rub off on me. Hannah has to cook for me!"
Do Rosalie and Violette get on as well as you do?
Hannah: "Yes, they're happy sisters. You'll see more of their relationship as the series goes on. There's a little friction because Violette is young and bit naive, and tries to give Rosalie advice. And obviously their mum, Rose, dying has put a strain on the whole family."
Kara: "It's so interesting playing factual characters because you know what happens and Harry's story is incredibly heartbreaking. I've shopped at Selfridges all my life, but it's weird when Hannah and I go in there now."
Hannah: "I know, I do look around now and think: 'This is my domain!'"
Do you enjoy shopping together?
Kara: "Yes that's our thing – we love to go shopping and have a meal in a nice restaurant."
Hannah: "I find Kara frustrating to shop with."
Kara: "Oh?"
Hannah: "Because she tries everything on. She also can be sold anything and then she'll buy five creams that do the same thing! She's a shop assistant's dream."
Kara: "Yes, skin products are my weakness!"
Well, at least you can borrow them, Hannah!
Hannah: "I do, don't worry about that TV Times!"
Will you still shop at Selfridges together now that Mr Selfridge is on screen, or will that seem weird?
Hannah: "That's interesting, I hadn't thought about that. Yes, we will be there on the days that episodes air, waving people in."
Kara: "Yes, saying: 'The sisters are back, baby!'
Get the latest updates, reviews and unmissable series to watch and more!
Thank you for signing up to Whattowatch. You will receive a verification email shortly.
There was a problem. Please refresh the page and try again.