Actress Natalie Bassingthwaighte teases her 'juicy storyline' comeback as Neighbours' Izzy Hoyland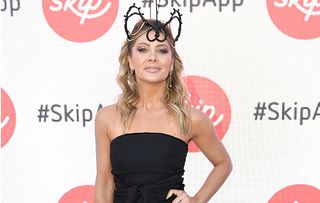 (Image credit: AAP/PA Images)
Neighbours' Natalie Bassingthwaighte has talked about her shock return to Erinsborough and the repercussions it could have, especially for the Kennedys.
Neighbours actress Natalie Bassingthwaighte is back in Ramsay Street as Karl Kennedy's babymother Izzy Hoyland and Karl's wife Susan, is not happy, Natalie has revealed to Soaplife.
What's the story?
Izzy Hoyland was last seen in Neighbours episodes shot in London in 2007. In the UK capital, a heavily pregnant Izzy gave birth to daughter Holly, and met Karl and Susan Kennedy.
After she revealed that Karl was Holly's dad, Izzy and her daughter left the shell-shocked Kennedys so she could reignite her romance with new beau Peter Gartside.
Izzy returns to Ramsay Street in a late-night special on Channel 5 on Monday 12 February at 10pm and actress Natalie Bassingthwaighte couldn't be happier! "It's absolutely crazy," Natalie told Soaplife. "It's so bizarre putting on Izzy's shoes again, but it's such a thrill to be able to play with some of my favourite people in the universe. It's really fun!"
What's happening in Neighbours? See the latest soap storylines
Natalie Bassingthwaighte's interview with Soaplife about her Neighbours return as Izzy Hoyland
Soaplife: So, what's brought Izzy back to Ramsay Street?
Natalie Bassingthwaighte: "Other people might say she's come back to cause trouble, but in Izzy's mind she's just coming back to be happy."
S: What sort of a welcome does she receive?
NB: "I don't think Susan's happy about her arrival. Izzy's always had a soft spot for Karl so time will tell what happens with that. A lot of people are pro Susan and they're not that happy about Izzy's arrival at all. "
S: How long are you back for?
NB: "I'm not just back for an episode or for a week, but I am a guest role and the storyline is juicy and exciting."
S: Izzy certainly made her mark the last time we saw her…
NB: "At times I'd think how does this person think this is acceptable behaviour? This time they've gone to the next level. When they presented the idea to me I thought, is this for real? I didn't imagine that they could top what Izzy had done in the past but I feel that they have."
S: What do you think of Izzy?
NB: "From an outside point of view none of her behaviour makes any sense but to her it does and she doesn't understand how it can cause such negative reactions. I feel that's from her naivety and vulnerability, but if I was looking in I'd be like you're completely bonkers!"
S: Since leaving Neighbours, you've been raising a family…
NB: "Yes. My daughter Harper is seven and my son Hendrix is four. They're good kids, but handfuls for sure."
S: You also have a singing career and a kids' clothing line. How do you manage being so busy?
NB: "Most of the time I just feel completely crazy so I don't know if I ever manage! It's hard to balance being a mum and having that work life. There's no answer, there's no magic formula, we just all do what we do and sometimes we sit in the corner pulling our hair out!"
Neighbours, Channel 5
Pic credit: AAP/PA Images
Get the latest updates, reviews and unmissable series to watch and more!
Thank you for signing up to Whattowatch. You will receive a verification email shortly.
There was a problem. Please refresh the page and try again.