Neighbours star Ryan Moloney reveals Toadie and Sonya Rebecchi's baby dream!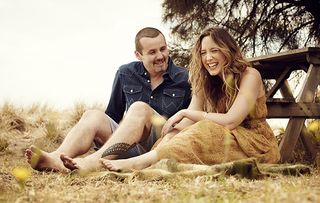 Toadie and Sonya Rebecchi long to hear the pitter-patter of tiny feet, but it won't be easy warns Neighbours' star Ryan Moloney …
It's been one of the – many - stumbling blocks in Toadie and Sonya Rebecchi's marriage: Should they try for another baby?
What's the story?
Toadie's made no secret of the fact that he'd like to be a dad again, although Sonya's been far from sure. Finally, though, they seem to be on the same page. "Toadie and Sonya had decided to wait a while before thinking about another baby – at least until imposter Andrea Somers was found, anyway," actor Ryan Maloney tells Soaplife.
"But they change their minds when Paul tells them the chances of the woman who'd been posing as Dee Bliss being found look increasingly remote." So, let the baby-making commence! But, this being Ramsay street, nothing ever quite goes to plan…
What's happening in Neighbours? See the latest soap storylines
Neighbours' star Ryan Moloney talks with Soaplife about Toadie Rebecchi's dream of adding to his family…
Soaplife: Toadie famously has a low sperm count. Are we talking IVF?
Ryan Moloney: "Well, yes, because he has problems conceiving he and Sonya decide to head down the IVF road, even though, very much against the odds, their daughter, Nell, was conceived naturally. It's not a particularly easy road, though, and there are no guarantees of success."
S: But a little brother or sister for Nell would be so lovely!
RM: "Yeah but this is Erinsborough, remember. Once a couple seem to be happy and are making plans for the future, something inevitably goes wrong."
S: What this time? Does it have anything to do with Andrea?
RM: "It might have! We all know fake-Dee is big trouble and she almost destroyed Toadie and Sonya's marriage. If she's tracked down, there are bound to be repercussions due to the fact Toadie slept with her when he believed she was Dee, plus she stole $100,000 from him and Sonya."
S: It won't be enough to break Toadie and Sonya up again, will it?
RM: "It's not going to be easy for them and it will affect their plans to add to their family. It may even be Toadie who wants to put the brakes on the IVF treatment. But, at the end of the day, Toadie and Sonya's love for each other is so strong, hopefully they'll be able to cope with whatever life throws at them."
S: Do you and Eve Morey, who plays Sonya, have a strong bond off-screen?
RM: "Really strong. I love working with Eve. We have such a deep level of trust between us on screen that, as Toadie and Sonya, we're able to go off and explore some very dark and sad places together. Some happy, fun ones, too, though. I know I can always rely on Eve and she'll give as good as she gets. Working with her just gets better and better!"
Get the What to Watch Newsletter
The latest updates, reviews and unmissable series to watch and more!