Sheree Murphy on her return to Neighbours and what she told Ryan Thomas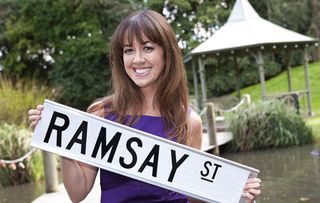 Former Emmerdale actress, Sheree on why she's back as scheming business woman, Dakota Davies, and the advice she gave to Ramsay Street recruit, ex Corrie actor, Ryan Thomas....
After a stint in Ramsay Street three years ago as scheming business woman Dakota Davies,  a former flame of Paul Robinson's, Sheree Murphy is back in Neighbours for a one-off episode set in London.
What's On TV  caught up with the former Emmerdale actress and mum of four, for an exclusive chat, to hear why ruthless Dakota's return will have serious repercussions, what advice Sheree gave to fellow soap star and recent Ramsay Street recruit, Ryan Thomas, and why she wouldn't rule out a move to Australia....
Sheree Murphy gives an exclusive interview to What's On TV about her return as Dakota Davies...
WOTV: The last time we saw Dakota she was fleeing Erinsborough after setting up a diamond smuggling operation and conning Paul Robinson....
Sheree Murphy: "Yes, when she left Australia before she was in a lot of trouble and Paul Robinson had to help smuggle her out of country. So she's back in England but she's still very much part of the underworld and still doing dodgy deals."
WOTV: What brings her back to Neighbours?
SM: "Rafael, (played by Ryan Thomas), has been looking for answers about how his mother died years ago in a Brazilian factory owned by Paul and Dakota. He still thinks Paul is responsible but when he can't get answers from him, Paul tells him Dakota is the only person who can help."
WOTV: What happens next?
SM: "Paul's son Leo, offers to go to London where Dakota is living, to try and get the information. Paul stresses that she mustn't, under any circumstances, know who he really is or why he's there, as she's a very prickly character. Leo sets up a meeting and as far as Dakota's concerned, she's just seeing a guy from Australia who's interested in doing  business with her."
WOTV: But Dakota susses there's more to it doesn't she?
SM: "Yes, she's a sharp woman and when Leo probes a bit too much, she knows something's not quite right. She confronts Leo who is caught off guard. He confesses the real reason he's there, that they're looking for answers about Rafael's mum."
WOTV: Things swiftly go horribly wrong for Leo….
SM: "Yes, when Leo tries to blackmail Dakota it's clear she's got the upper hand and Leo is way out of his depth. He wanted to prove to Paul that he could handle this and impress him, but he screws up royally and knows that Paul will be absolutely furious."
WOTV: So what exactly is Dakota hiding and what does she know about Rafael's mum?
SM: "Something has obviously gone down otherwise she wouldn't be so defensive about giving Leo the information. Dakota is the kind of character who will always save her own back just like Paul Robinson. She's a force to be reckoned with."
WOTV: What's her relationship with Paul like?
SM: "I think he's still a bit in love with her. He sees a lot of himself in her and definitely met his match. When she showed up last time he kind of fell in love with her all over again. It's not often people get the better of him, but Dakota did and I think he's carrying that around and that's why he doesn't want to go near her. I think he's worried that if he did, he would fall for her charms all over again."
WOTV: Did you speak to Ryan Thomas, (former Corrie actor), about the storyline at all?
SM: "He called me when he was first offered the part of Rafael and said, 'I've been offered Neighbours, do you think I'd like it?' And I said, 'Oh my God you have to do it, Melbourne's such a great city and the cast are lovely.' But it was weird because it was the same time  I'd been offered an episode shooting in London and when I told him, he said, 'I know, our two characters are linked!'"
WOTV: Does her story come to an end or is it left open?
SM: "This is a one off episode set in London. Producers said before, the door is open for you. Dakota is a very flighty person, the sort of character that will just turn up on Paul's doorstep one day and say, 'I need your help'.
"If the producers said they'd like me to do a couple of months and film, like I did the first time, I'd be up for it!"
WOTV: What was it like filming this episode in London?
SM: "Brilliant, we filmed directly under Tower Bridge so an iconic landmark. I'd not worked with Tim, (Kano), before who plays Leo, he joined after I'd left, but all my friends at Neighbours said, 'Oh you'll really like him, he's so nice." He was an absolute diamond and we went out for a lovely dinner that night after filming along with one of the directors."
WOTV: You're a Londoner born and bred aren't you ?
SM: "Yes, I was born in Hackney hospital and grew up on a little council estate there. I've been living up near Manchester fore ages and I love it up here but I've still got friends in London and my mum lives there so I'm down a lot. She's a proper Londoner through and through, I don't think you'd ever get her to leave."
WOTV: Do you have good memories from being in Neighbours first time round?
SM: "Oh yes, 100 per cent, I'm still really good friends with Olympia Valance, who plays Paige, I called her about Ryan coming over and said, 'Please look after him, he's never been to Melbourne and doesn't know anyone.' He went out to dinner with loads of cast members, and all the ones I know completely fell in love with him, they're such a lovely bunch out there."
WOTV: What do you like about being in Neighbours most?
SM: "A bit like our soaps, there's a big family vibe and a lot of the crew have been there from day one, which you don't get in a lot of jobs these days. Being on a soap, the hours are long and it can be relentless.  Learn your lines. Turn up. Work. Go home. Learn your lines. You don't see daylight sometimes so I think you've got to have a really good atmosphere on set otherwise it just wouldn't work. That's what I love about it, the big family feeling."
WOTV: Your husband, Harry (Kewell), is Australian. Have you had conversations about moving back there?
SM: "He came to England when he was 15 and his dad is English, so he's had quite an English upbringing. He's only ever lived back there with us, in Melbourne, which was for three years on and off. He sees the UK as his home and I don't think you could get him to budge. He strangely likes the cold weather! We're all happy here but if he needed to go for work I would be equally happy to go back over there. You can never say never, you don't know where you're going to end up."
WOTV: Will your children Taylor, 17, Ruby,15, Matilda, 10, and Dolly, 6, be watching the episode?
SM: "Yeah! They love it and they love it when I go off to work because I'm out of the house and out of their hair!
"I've always tried to fit in any jobs around them. I'm on my own during the week because Harry works away from home and we haven't got family near to help out, my mum's in London and Harry's mum is in Australia, and I don't want someone else bringing up my kids.
"I really do love working but when I'm not I appreciate being here with them. I can't believe my son is 17! Where has the time gone?"
WOTV: What's next for you. Have you got more TV roles in pipeline?
SM: "I'm about to start a new job which I'm really excited about but which I can't talk about yet. All I can say is it's completely different to anything I've done before. I hate being cloak and dagger, it's top secret,  but it's going to take up quite a bit of my time and I'm really looking forward to it."
Sheree's episode will air on March 26th on Channel 5, 1.45pm and repeated 5.30pm
Get the latest updates, reviews and unmissable series to watch and more!
Thank you for signing up to Whattowatch. You will receive a verification email shortly.
There was a problem. Please refresh the page and try again.