Neighbours' Ryan Moloney reveals Christmas joy for Toadie as he's reunited with Sonya!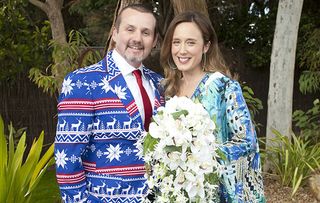 Neighbours' Ryan Moloney reveals Toadie Rebecchi has a very special Christmas as he's reunited with love of his life Sonya!
So, after all the heartache, betrayal and hurt, Toadie Rebecchi and Sonya have finally got back together. Toadie's just relieved to be reunited with the love of his life but Sonya has a stupendous surprise in store for him to take place on Christmas Day, says Ryan Moloney
What's the story?
"Sonya has planned a renewal of their marriage vows and is determined to keep Toadie in the dark – he is completely oblivious as you'd expect him to be,' Ryan Moloney told Soaplife. But before the big day dawns, Toadie comes close to finding out what's going on…
What's happening in Neighbours? See the latest soap storyline
Ryan Moloney reveals all to Soaplife
Soaplife: How does Toadie almost find out?
Ryan Moloney: Callum texts Sonya wishing her good luck and Toadie sees the message. 'Good luck for what?' he thinks."
S: Where does he think he's going on Christmas Day?
RM: "To a Christmas party. When he arrives, he becomes suspicious as everyone is acting rather strangely around him – like they're hiding something which, of course, they are."
S: What happens next?
RM: "Nell walks out towards him in a lovely dress and carrying a basket of flowers. Willow then emerges and the residents line up next to Toadie. Susan says 'Shall we start the ceremony?' and then Sonya comes out in a stunning rainbow-hued dress and Toadie is totally blown away. It's a beautiful ceremony in an outdoor location – all very colourful with streamers. It's very Sonya."
S: So will they live happily ever after?
RM: "Jeez, I hope so! I don't think I can take anymore drama for a while. There will certainly be happy times for the near future!"
S: Can you give us any clues as to what's in store for them in 2018?
RM: "I can't give too much away but there is definitely another curve ball coming their way, however I think they will approach it differently this time."
S: How does it feel to have Toadie and Sonya back together?
RM: "For Eve [Morey], who plays Sonya, and I it really is like starting all over again. This past year has been exhausting and our writing team deserve a medal. Everything that could possibly go wrong with this couple has. It has been brilliant story telling. But I think the viewers are looking forward to some respite."
Neighbours, Channel 5
Get the What to Watch Newsletter
The latest updates, reviews and unmissable series to watch and more!