10 Years Ago in the Soaps: Week Beginning April 1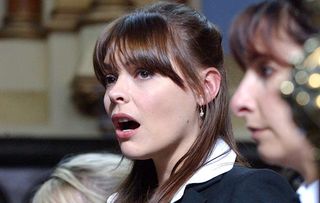 10 years ago, it was kidnap and courtroom drama in Corrie, a Mitchell stitch-up and a marriage break-up in EastEnders, a fool in love and a broken heart in Emmerdale and seduction and stalker terror in Hollyoaks
Remind yourself of all the soap drama that was happening in Corrie, EastEnders, Emmerdale and Hollyoaks 10 years ago this week!
CORRIE
New mum Claire Peacock (Julia Haworth) had a bad week after inviting bereaved mother Casey Carswell (Zoe Henry - now in Emmerdale!) round for a coffee. Claire's stepson Joshua hurt himself and Casey offered to look after baby Freddie while Claire took him to A&E. But when Claire got home, Casey and Freddie had disappeared. Claire panicked and called the police, but then Casey came back with Freddie, saying she had just taken him out for a drive. When she finds out Claire didn't trust her and called the police, she's deeply offended and leaves. Claire feels terrible…But her gut instinct about Casey later turned out to be right.
Tracy Barlow's trial for the murder of Charlie Stubbs (Bill Ward) reached a dramatic conclusion as she was found guilty and jailed for life, with the judge recommending that she served at least 15 years. Stunned Tracy (Kate Ford) started screaming her innocence at the jury as her mum Deirdre (Anne Kirkbride) broke down and was comforted by Ken (William Roache) as she blamed herself for not lying for her daughter on the witness stand.
EASTENDERS
Doctor "Mad May" Wright (Amanda Drew) completely lost the plot when husband Rob (Stuart Laing) left her for Dawn Swann (Kara Tointon). May acted like she couldn't care less, packed Rob's bags and let him go – but kept his golf clubs. She didn't do it out of spite, though…she wanted to use one to vent her real feelings and smash up their flat!
This was also the week when Ian Beale (Adam Woodyatt) moved his family into 45 Albert Square – "Rosedene" – which led to his constant tormentor, Phil Mitchell (Steve McFadden), having some fun at his expense, with help from Billy Mitchell (Perry Fenwick). As he signed for a bed he told Billy not to call him Phil as he was pretending to be Ian… And viewers just knew Phil hadn't bought Ian a housewarming present.
EMMERDALE
Jimmy King (Nick Miles) was in love with Kelly Windsor (Adele Silva) and surprised her with a proposal…then dropped the engagement ring in the river! Kelly had been desperate to get that ring on her finger and wasn't about to go home without it, and they both got very wet finding it. But after they had, Kelly happily became Jimmy's fiancée.
There was short-lived joy for Perdita Hyde-Sinclair (Georgia Slowe), who had discovered she was pregnant. She was rushed to hospital when she started bleeding and doctors discovered she had an ectopic pregnancy and needed an emergency hysterectomy. When she came to, her constantly cheating (with other men) husband Grayson (Christopher Villiers) told her she would never have a baby and she was devastated, telling him their marriage was over.
HOLLYOAKS
Warren Fox (Jamie Lomas) hired Justin Burton (Chris Fountain) to work at The Loft, which he was running with Clare Cunningham (Gemma Bissix). During this week 10 years ago, Justin got caught up in a feud between the two when Clare seduced him while Warren was in Spain. Clare wanted to use Justin to get information on Warren and sleeping with pretty-boy Justin was no hardship.
Zoe Carpenter (Zoe Lister) was trying to leave her stalker/boyfriend Will Hackett (Oliver Farnworth) – and he was determined to keep her in Hollyoaks. Zoe had her bags packed and was going to New York but she never even made it to the airport… In a bone-crunching scene, Will slammed Zoe's arm in the taxi door and she was taken to A&E, which meant she missed her flight.
Get the What to Watch Newsletter
The latest updates, reviews and unmissable series to watch and more!