10 Years Ago in the Soaps: April 15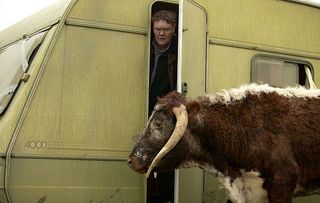 (Image credit: Neil Sherwood)
Remind yourself of all the soap drama that was happening in Corrie, EastEnders, Emmerdale and Hollyoaks 10 years ago this week!
Sally stumbled across a suspicious death in Corrie, Paddy was trapped in a very mobile home in Emmerdale, Denise and Kevin planned their wedding in EastEnders, and Justin was digging a grave in Hollyoaks… Those were the dramas in soapland 10 years ago this week – and there's more!
Corrie
Knicker-stitcher Sally Webster (as she was 10 years ago) was horrified to walk into the Underworld factory and find Polish employee Kasia Barowicz (Irena Rodic) dead on the floor, with Paul (Sean Gallagher), Liam (Rob James-Collier) and Carla Connor (Alison King) standing over the body. Kasia had fallen down the stairs while doing unofficial overtime and the Connors were desperate to fudge the facts of her death to avoid being prosecuted for having staff working illegal hours. But Sally (Sally Dynevor) was suspicious of the Connors' version of events.
Liam Connor was at the centre of another story this same week 10 years ago… Janice Battersby (Vicky Entwistle) was gobsmacked when he emerged from her bathroom in just his boxers, having spent the night in Leanne's bed…with Leanne (Jane Danson). But this was when Leanne was making a living as a prostitute, and she decided not to mix business with pleasure…
Emmerdale
Adopted Andy Sugden's (Kelvin Fletcher) troubled relationship with his birth father, Billy Hopwood (David Crellin), took a violent turn when Billy tried to do the right thing by his son and stop him driving when he was drunk. Andy wasn't grateful, though. He took a swipe at Billy, missed, and fell and banged his head. But he tells girlfriend Jo (Roxanne Pallett) that Billy attacked him and she calls the police. Not good news for ex-con Billy.
Paddy Kirk (Dominic Brunt) made the mistake of getting very drunk, which left him at the mercy of pranksters Zak (Steve Halliwell) and Shadrach Dingle (Andy Devine). Passed out in the caravan he's living in, Paddy has no idea that the jokers have towed the van to the middle of a field. The first he knows about it is when he wakes, badly hung over, looks out of his window and comes face to face with a bull. That wasn't the worst of it, either… The bull gave the caravan a good kicking and it rolled down a hill into a ditch – with Paddy still inside!
EastEnders
Schoolboy Jay Brown (Jamie Borthwick) was too young to smoke but that was the least of his problems… Jay had only recently moved in to Albert Square to live with his grandfather, Bert Atkinson (Dave Hill) when he discovered Bert had glaucoma and needed surgery to save his eyesight. Jay was devastated and hid in alley, terrified of losing his grandfather but not knowing who to turn to.
Denise Fox (Diane Parish) and Kevin Wicks (Phil Daniels) were planning to get married, but the date they had chosen caused problems… Their wedding date of April 27 was also the anniversary of the death of Kevin's son Jimbo and Deano (Matt Di Angelo), Jimbo's half-brother, angrily accused Kevin of forgetting all about Jimbo and announced he wouldn't go to their wedding.
Hollyoaks
Justin Burton (Chris Fountain) sobbed as he was forced by Warren Fox (Jamie Lomas) to dig a grave out in the woods, away from anyone who could help him. Justin was terrified Warren was about to bury him, but the grave was for Sean Kennedy's body. "You and me are going to be bound by something permanent," Warren told Justin. "I killed Sean and you're going to help me get rid of him. You'll be an accessory." And no amount of begging from Justin could change Warren's mind.
Their romance was a slow-burner but Dominic Reilly (John Pickard) and Tina McQueen (Leah Hackett) became a couple and, 10 years ago this week, Dom got down on one knee and asked Tina to marry him – and she said yes!
Get the What to Watch Newsletter
The latest updates, reviews and unmissable series to watch and more!