10 Years Ago in the Soaps including EastEnders - Week beginning June 16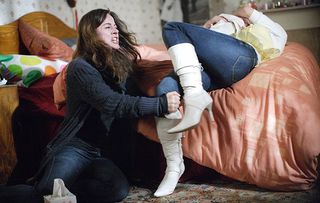 (Image credit: BBC)
10 Years Ago in the Soaps - Remind yourself of all the soap drama happening in Coronation Street, EastEnders, Emmerdale and Hollyoaks 10 years ago this week!
Mad May Wright went out with a bang in EastEnders, Carla Connor blackmailed Liam Connor in Coronation Street, Nicola De Souza got into a cat fight in Emmerdale, and Newt Newton bombed The Loft in Hollyoaks - 10 years ago in the soaps
EastEnders - 10 Years Ago in the Soaps
Mad May Wright (Amanda Drew) was on the brink. She turned up on Dawn Swann's doorstep, told her she was an unfit mother to little Summer, then attacked her and locked her in the bedroom. In dramatic scenes, the two women fought over Summer until finally May gave up, went downstairs, opened the oven and lit a cigarette – then the whole house exploded. The locals rushed to the rescue and the fire brigade were called. But at last a body bag was carried out. May had gone – for good!
Ian Beale (Adam Woodyatt) wasn't at all keen on Lucy's boyfriend Olly (Bart Edwards) and when he caught him and Lucy getting up to no good, he wasted no time in chucking Olly out. Conveniently there were stocks set up in Albert Square as part of The Queen Vic's Best of British celebrations, so Ian wrestled Olly into them, then chucked a bucket of water over him. That cooled his ardour!
Coronation Street - 10 Years Ago in the Soaps
Hell hath no fury like Carla Connor (Alison King) scorned. She was furious her lover Liam Connor (Rob James Collier) had gone back to his wife Maria and gave him an ultimatum – either he sell his share of the factory to Tony Gordon (Gray O'Brien) or she'd spill the beans about their liaison. Liam didn't want to sell, but - put like that - he realised he had no choice!
For some complicated reason, the Peacocks and the Websters had agreed to a house swap but Claire Peacock and Sally Webster kept up fierce competition for the best deal. Eventually, though, the money was transferred and the two couples moved into their new homes. But Sally had to have the last word. She had tampered with the fuses so when Ashley Peacock (Steven Arnold) went to fix them, the whole fuse box blew leaving them in darkness. Claire wasn't impressed.
Emmerdale - 10 Years Ago in the Soaps
David Metcalfe (Matthew Wolfdenden) had women fighting over him in The Woolpack after Nicola De Souza (Nicola Wheeler) threw a drink over love rival Sharon Lambert (Victoria Hawkins). The girls had to be pulled apart by David and Rodney Blackstock but Nicola came out the winner when David publicly dumped Sharon after finding out she'd been using him. Nicola was thrilled to be back with her man.
Ross Kirk (Samuel Anderson) was pleased to spend time alone with fellow cop Donna Windsor-Dingle (Verity Rushworth) when they were sent on surveillance together. They got to talking about relationships, then Ross revealed there was someone he loved and he thought Donna knew who he meant. Donna was clueless - so Ross blurted out that she was that woman. Donna was lost for words!
Hollyoaks - 10 Years Ago in the Soaps
Newt Newton (Nico Mirallegro) wanted revenge on Warren Fox and decided planting a home-made bomb at The Loft was the way to get it. With the help of partner-in-crime Eli (Marc Silcock), he sneaked in The Loft for the re-launch party but ended up trapped in the toilets. They just managed to escape as the bomb went off and chaos ensued…
Tom Cunningham was beginning to despair that his brother Max (Matt Littler) and Steph Dean (Carley Stenson) would ever get back together so he managed to super-glue them together while they were helping him build a model aeroplane. Once at the hospital they were forced to talk, Max realised the error of his ways, and begged Steph to marry him. Again!
Get the What to Watch Newsletter
The latest updates, reviews and unmissable series to watch and more!