7 things you didn't know about Bhavna Limbachia - AKA Coronation Street's Rana Habeeb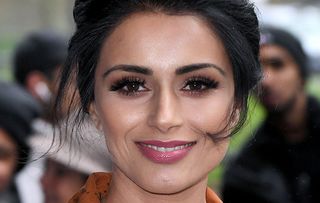 (Image credit: Anthony Harvey/REX/Shutterstock)
Bhavna Limbachia has just left Coronation Street after Rana met a tragic end, here are a few things you might not know about the actress...
Actress Bhavna Limbachia joined Coronation Street as Rana Habeeb three years ago, quickly becoming a firm fan favourite as her character found love with Kate Connor. Since then 'Kana' fans have watched the couple experience huge highs and lows in the lead up to their wedding...
But of course the pair didn't get the happy ending fans had hoped for when Rana was killed off in dramatic scenes.
Here's everything you need to know about actress Bhavna Limbachia...
1. She used to own a jewellery business 
Before finding fame as Coronation Street's Rana, Bhavna made a career out of being a costume designer, she owned a vintage jewellery business and even worked as a temp at Trading Standards. But despite being successful at her former careers, she always wanted something more, confessing that acting was the dream that she just couldn't forget about.
2. She's worked with a Corrie co-star before
While you might not see Rana and former Coronation Street serial killer Pat Phelan in the same light... it turns out that the former co-stars have worked together before stepping foot on the cobbles. The actress told amagazine.co.uk: "The last costume designing job I did was for Drop Dead Gorgeous with Connor McIntyre (Corrie's evil Phelan) for BBC3... It was minus three degrees and 1am on Runcorn promenade and I was there holding Connor's umbrella thinking, 'I cannot do this any more. I can't regret something I didn't do'". And the rest, as they say, is history.
3. She's a big fan of upcycling
In her spare time, Bhavna loves nothing more than trawling around flea markets, antique fairs and car-boot sales to find herself a bargain. Being a huge fan of French furniture means if she sees something the likes, then she will bring it home and start sanding it down to bring it back to life.
4. She's a proud Northerner 
She once told amaagazine.co.uk: "I'm so proud of being Northern. I think some of the best writers have come from the North, Northern gritty drama is British drama at its best. Don't get me wrong, I love dipping in and out of London for work, but as soon as I get off that train and onto Northern soil I just feel way more relaxed and happier".
5. She likes to spend her weekends with her family 
Bhavana has revealed that she loves spending her free time at the weekend with her family. She told express.co.uk: "I have got a big family who love to eat and so our get togethers often revolve around food. We pick a different house each weekend and cook dinner together - we all chip in and we'll be up for hours giggling, having a few drinks, and catching up".
6. She suffers from an incurable hereditary condition 
Bhavna has opened up about the fact that she has a condition called hypothyroidism, also known as having an underachieve thyroid gland, hoping that it will raise awareness for other sufferers. She has revealed that she would wake up exhausted despite having a good night's sleep, and when she then started getting aching muscles and brittle hair she knew something wasn't right. The actress will now be on medication for the rest of her life and hopes that her talking about it will mean other people will realise that having the condition isn't the end of the world.
7. Bhavna Limbachia got married in secret
Bhavna got married last year to actor Darren Kuppan, and managed to keep the low-key ceremony a secret for a few days. After keeping the details of their wedding under wraps, Bhavna delighted fans by sharing images from her special day on her social media pages. The newlyweds then went on honeymoon to Bali, where the actress shares amazing snaps with her followers.
Main pic: Anthony Harvey/REX/Shutterstock
Get the latest updates, reviews and unmissable series to watch and more!
Thank you for signing up to Whattowatch. You will receive a verification email shortly.
There was a problem. Please refresh the page and try again.