A League of Their Own goes down swinging at Prime Video with shortened season 2
The show will have a chance to wrap up the story before it ends.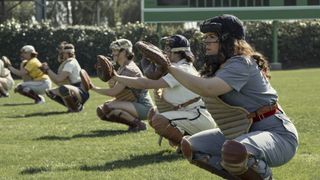 (Image credit: Nicola Goode/Amazon Studios)
The A League of Their Own spinoff has struck out at Prime Video. THR (opens in new tab)reports that after months of complex negotiations with Sony TV, a deal was unable to be reached. But there's a silver lining: the series will end with a four-episode second season to wrap up the story and give closure to fans. The show will reportedly be labeled as a limited series according to sources close to the deal.
From the start, the A League of Their Own spinoff was an ambitious project built around a beloved film. Showrunners Will Graham and Abbi Jacobson started working on the show's development back in 2018, receiving assistance from members of the All-American Girls Professional Baseball League along with Penny Marshall's blessing on the series before she died.
Based on the 1992 movie starring Geena Davis, Madonna, Rosie O'Donnell and Tom Hanks, the series focuses on the stories of queer and Black players whose stories were only briefly acknowledged in the film. The series received praise from GLAAD, the Independent Spirit Awards and the Critics Choice Association, as well as earning a 94 percent rating from critics on Rotten Tomatoes.
Graham took to Twitter (opens in new tab) to offer his thoughts on the decision, which he stressed is not final. "The one thing I'll say at this moment: A League of Their Own is not a small or niche show. The audience is domestic, but our understanding is that it's very big. It has outperformed many other shows that have been renewed," he said. "The stuff that came out today is a leak and isn't official, which is why we aren't saying anything. So if you want to see more episodes or more seasons of this show, now is your moment. People are listening."
Prime Video and Sony TV had been locked in negotiations for months; Prime Video was pushing to reduce Sony's licensing fee. The shortened second season will require new contracts from stars Jacobson, D'Arcy Carden, Chante Adams, Melanie Field and Kate Berlant, but it's a positive step to give the very special show the closure it deserves.
A League of Their Own fans will now join legions of TV viewers who have been receiving sad news about the futures of their favorite shows. One look at all of the cancelled or ending shows in 2023 and there's no mistaking the number of beloved shows coming to an end this year.
Get the What to Watch Newsletter
The latest updates, reviews and unmissable series to watch and more!
Editorial Content Producer
Sarabeth joined the Watch to Watch team in May 2022. An avid TV and movie fan, her perennial favorites are The Walking Dead, American Horror Story, true crime documentaries on Netflix and anything from Passionflix. You've Got Mail, Ocean's Eleven and Signs are movies that she can watch all day long.
When she's not working, Sarabeth hosts the My Nights Are Booked Podcast (opens in new tab) and blog (opens in new tab) dedicated to books and interviews with authors and actors. She also published her first novel, Once Upon an Interview (opens in new tab), in 2022.