Countryfile star Anita Rani: I love when people accidentally walk into shot!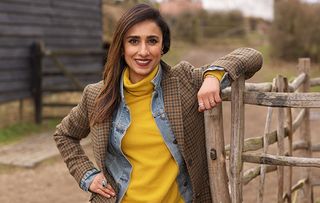 (Image credit: BBC Studios/Pete Dadds)
Anita Rani reveals the behind-the-scenes secrets of working on Countryfile Live, plus her Strictly Come Dancing dreams for a certain co-presenter!
The Countryfile team haven't let the grass grow under their feet this summer. Due to the heat wave the grass is parched, but also they've been busy filming Countryfile Live, one of the biggest events in their diary!
Described by Countryfile figurehead John Craven as "the best country fair in the world", the four-day event has returned to Blenheim Palace, Oxfordshire in August for the third year running. A rich mixture of woodland, parks, lakes, and home to rare wildlife, Blenheim is an ideal base camp for Countryfile Live. In fact, TV Times have been told, a fourth Countryfile Live is planned from Blenheim next August, with an additional event at Castle Howard in Yorkshire two weeks later!
"Blenheim Palace is amazing and Countryfile Live is a real highlight in the Countryfile calendar," says Anita Rani. "It's such a privilege to make a programme where you enjoy what you do. And then for it to be the most loved programme on British television is just epic!"
Here Anita Rani, 40, tells us about this very special Countryfile outing…
What's the atmosphere like at Countryfile Live?
Anita Rani: "We can't quite believe how amazing it is. There's so much to do. It's brilliant for children – there's a vintage fair ground, a zip wire, paddleboarding, and this year you can learn to fish too. And on top of all that, the sun is shining! Countryfile Live is such a magical event. There's a really warm, family atmosphere."
With so many people attending, have there been any 'look mum, I'm on telly' moments in the background?
AR: "We've had a bit of that. I love when people accidentally walk into shot and then realise halfway through! They always have a shocked face and then try and shuffle out of the shot."
Have any celebrities popped up at the event?
AR: "Yes, there's always a few well-known faces here. Ellie [Harrison] did a talk with Steve Backshall earlier, Charlotte [Smith] has been hanging out with JB Gill, and the lovely Jon Culshaw and Reverend Richard Coles are hosting our discussions up on the main stage. Victoria Pendleton, Prue Leith and Matt Dawson have been spotted too, and I even heard that Lee [Ryan] from Blue paid us a visit!"
You've been working closely with Young Presenter winners, Archie, 13, and Matilda, 10. What have you filmed so far?
AR: "I spent this morning with Matilda filming a piece about reintroducing hedgehogs to Blenheim. Matilda's dad told me she loves Countryfile and has been blown away by the experience. It hasn't put her off, she still wants to be a presenter! Archie is also an amazing presenter. He's got such confidence. I'm filming with him later today and hear he's been learning to fish."
What have the other presenters been working on for CL?
AR: "John Craven has his own pub called the Craven Arms – it's brilliant! Helen [Skelton] and Sean [Fletcher] have been learning to fly-fish and Tom [Heap] and Adam [Henson] are doing their annual challenge. The first year of Countryfile Live they did a sawing competition, last year it was kayaking, and this year it's who can build the best straw bale den!"
Countryfile Live has fallen on one of the hottest weeks of the year. Is the weather challenging?
AR: "At least it's not raining! I'm used to working in different weathers for Countryfile - wind, rain, hail… but no one thinks about extreme heat in the UK, at least not until this summer!"
What does working on Countryfile mean to you?
AR: "It's an incredible programme. I signed up to Countryfile in 2015 – my magic year when I did the holy trinity of Countryfile, Who Do You Think You Are and Strictly Come Dancing! I'm constantly learning and having really meaningful experiences, like being with refugee children when they saw snow for the first time."
Which of your Countryfile co-presenters presenters would like to see compete in Strictly?
AR: "That's easy – I've always wanted to see John Craven do the Paso!"
Watch all the fun of the Countryfile fair when Countryfile Live airs on BBC1 at 7pm this Sunday.
Get the latest updates, reviews and unmissable series to watch and more!
Thank you for signing up to Whattowatch. You will receive a verification email shortly.
There was a problem. Please refresh the page and try again.