Autumnwatch has been axed by the BBC after 17 years
But Springwatch and Winterwatch will continue...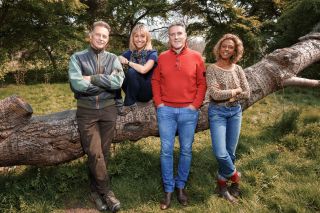 (Image credit: BBC)
Fans of relaxing nature TV will no doubt be familiar with the BBC's The Watches series, with Springwatch entertaining fans in spring, Autumnwatch doing the same in autumn and Winterwatch the same but for... some other time in the year.
However, in a turn of events that'll be sure to break hearts, Autumnwatch is no more. After 17 years of existence (its first season came out in 2006, after a one-off 2005 special), the series won't return to our screens in 2023.
In its announcement, the BBC put the blame down to financial difficulties: we "need to make difficult decisions and focus our resources on content that has the highest impact".
The broadcaster justified its decision by saying "instead, we are investing more money into Springwatch and Winterwatch, as they are most popular with audiences," in a move that could keep The Watches fans happy.
BBC confirmed that Springwatch is still going ahead as planned, with a three-week run planned for May 2023, but Winterwatch will also be affected by the BBC's financial woes.
The broadcaster has confirmed that the frosty series will only get a week-long run in its next iteration, down from almost two weeks in the early 2023 season.
Fans of The Watches are getting a lot less content over the next year, which will be bad news for people who love their regular dose of nature.
The most recent season of The Watches was Winterwatch, which ran from January 17 to 27, and included locations in Wild Ken Hill and Edinburgh. Springwatch, the flagship show of The Watches, is scheduled to return in May.
If you're a hardcore Autumnwatch fan, you can watch previous episodes of the show on the BBC's iPlayer, as well as episodes of Springwatch and Winterwatch.
While The Watches is popular with fans for its relaxing yet educational exploration of British nature, there are other shows out there for wildlife lovers. Streaming services Discovery Plus and Disney Plus (Disney owns National Geographic) are great for nature documentaries.
Get the What to Watch Newsletter
The latest updates, reviews and unmissable series to watch and more!
Streaming and Ecommerce Writer
Tom is the streaming and ecommerce writer at What to Watch, covering streaming services in the US and UK. His goal is to help you navigate the busy and confusing online video market, to help you find the TV, movies and sports that you're looking for without having to spend too much money.