Reese Witherspoon and Nicole Kidman tell Big Little Lies in new TV drama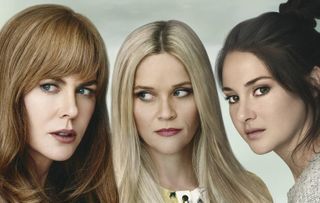 Love, money...and murder! An all-star cast including Reese Witherspoon and Nicole Kidman appear in new TV drama series Big Little Lies.
Big name movie actresses Reese Witherspoon, Nicole Kidman, Laura Dern, Shailene Woodley and Zoe Kravitz are all coming to the small screen in an eagerly-awaited new US drama series, Big Little Lies.
The seven-part series is based on the book of the same name by Liane Moriarty. Although the story was originally set in an Australia seaside community, the TV series has been relocated to Monterey, California and follows the lives of three mothers - Madeline (Reese Witherspoon), Celeste (Nicole Kidman) and Jane (Shailene Woodley).
"The first time I read the book, I just thought it was electric," says Reese. "It really delved into a lot of issues that women are dealing with daily that we don't often see on-screen in this way. And it's not black and white. These aren't women who are good or bad. We wanted to show the rainbow of the female experience, which I think is sort of absent in Hollywood in a lot of ways."
The series kicks off with a murder and goes on to explore the complicated relationships between wives and husbands, parents and children and also the haves and have-nots of this wealthy beachside community. But things also take a darker turn with secrets and betrayals, domestic violence and sexual assault...
"Sometimes I would go home and I would cry," says Nicole whose onscreen husband starts to show a violent side. "It was really tough but I wanted it to be as authentic and as real as it could be."
Big Little Lies starts on Sky Atlantic from Monday 13th March
https://youtu.be/chJ4mcy1cpY
Get the latest updates, reviews and unmissable series to watch and more!
Thank you for signing up to Whattowatch. You will receive a verification email shortly.
There was a problem. Please refresh the page and try again.