10 Years Ago in the Soaps: Week Beginning April 8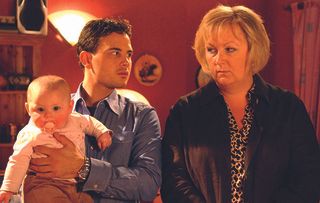 Remind yourself of all the soap drama that was happening in Corrie, EastEnders, Emmerdale and Hollyoaks 10 years ago this week!
Baby blues for Eileen and Jason in Corrie, David's revenge against Pollard in Emmerdale, Garry with a bloodied nose in EastEnders and John Paul and Craig in Hollyoaks… They all featured in the soap dramas from 10 years ago this week.
Corrie Baby Holly had been left with Eileen Grimshaw (Sue Cleaver) by Emma (Stephanie Waring now in Hollyoaks), who said she'd had a one-night stand with Jason Grimshaw (Ryan Thomas) and he was Holly's father; he had to look after the baby as she couldn't cope.
Eileen fell in love with Holly, but then Emma saw a picture of Charlie Stubbs (Bill Ward) in the papers… 10 years ago this week, Emma turned up on Eileen's doorstep again, this time to reveal that Charlie had told her he was Jason Grimshaw when they slept together. Now that she knew truth, she wanted Emma back. Eileen and Jason were shocked… And Eileen refused to give up Emma.
Liz McDonald (Beverley Callard) was put on the spot when boyfriend Vernon Tomlin (Ian Reddington) got down on one knee and proposed to her. Liz was gobsmacked and found herself agreeing to marry him, although it was obvious she had reservations. In fact, Liz had been getting fed up with lazy musician Vernon and had started flirting with drayman Derek (David Hounslow). But she let Vernon proudly announce to a packed pub that they were engaged.
Emmerdale David Metcalfe (Matthew Wolfenden) and his dad, Eric Pollard (Chris Chittell), weren't always on good terms… At this time in their relationship, David hated his father for not being there for him when he was a child and, with girlfriend Delilah Dingle (Hayley Tamaddon), had planned to steal £20,000 from Pollard then disappear. An online check revealed they had almost reached their goal and David told Delilah he wanted them to move to South America and never come back.
Following the death of Tom King, a woman called Carrie Nicholls (Linda Lusardi) had turned up in the village for his funeral with her daughter, Scarlett (Kelsey-Beth Crossley), who turned out to be Tom's love child – and half-sister to the King brothers. What was revealed 10 years ago this week is that Carl King (Tom Lister) had a one-night stand with Carrie before she had her affair with his father…And Carl was hurt and angry when Carrie made light of it.
EastEndersJim Branning told wife Dot (June Brown) that they should contact the authorities about Tomas, a baby Dot found abandoned in church. But Dot insisted that his mother would come for him – God wouldn't let them down. And the mother did turn up. Her name was Anya (Olga Fedori) and she was an illegal immigrant. Dot wanted to help her, but Jim (John Bardon) phoned immigration and Anya was taken away, leaving Dot and Jim holding the baby.
Garry Hobbs (Ricky Groves) got in the middle of an argument between his mum, Hazel (Kika Mirylees) and her soon-to-be-ex-fiancé Gerald, who thought Garry was Hazel's toyboy and thumped him on the nose. It turned out Hazel had told Gerald she was 42, so she couldn't tell him Garry was her son!
HollyoaksLouise Summers (Roxanne McKee) was shocked when Pc Calvin Valentine (Ricky Whittle) turned up and told her that her violent and estranged husband Sean had been murdered – but they hadn't found his body. Calvin added that, as Sean's wife, she would be a suspect and Louise was scared, insisting she had done nothing wrong. But she was still arrested.
Remember that text John Paul McQueen (James Sutton) got from Craig Dean (Guy Burnet) when he left Hollyoaks last month? Well this time 10 years ago they were still only friends… Student John Paul had admitted he was gay, but Craig was still denying his feelings for John Paul. So John Paul had embarked on a relationship with DJ Spike (Tom Vaughan) – and Craig became jealous, but still didn't act on his feelings for John Paul.
Get the What to Watch Newsletter
The latest updates, reviews and unmissable series to watch and more!