10 Years Ago in the Soaps: Week Beginning December 16th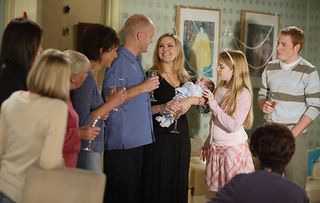 (Image credit: BBC)
10 Years Ago in the Soaps: Remind yourself of all the soap drama that was happening in EastEnders, Coronation Street, Emmerdale and Hollyoaks 10 years ago this week!
10 Years Ago in the Soaps - EastEnders
It was the calm before the storm as Christmas approached in EastEnders 10 years ago. The Branning family celebrated baby Oscar's homecoming, blissfully unaware that the smiles were soon to be wiped off their faces. Lauren Branning (then played by Madeline Duggan) was not so thrilled with the new arrival, feeling pushed out and ignored. But that was nothing to the way she felt when she took out her laptop to view the wedding video filmed for Bradley Branning (Charlie Clements) and his bride Stacey. The video had been a ticking time bomb since the couple's big day at the beginning of November, capturing intimate film of her dad Max Branning (Jake Wood) with Stacey before the ceremony, making clear they had been lovers. Lauren was horrified at Max's hypocrisy and that horror turned to anger. So she copied the film onto a DVD, titled it The Real Max Branning and slipped it into a red envelope…
If only Billy Mitchell (Perry Fenwick) had had the sense to go to Peggy Mitchell and ask for help with his money troubles, she would have been happy help. But instead, he had pinched the charity box from The Queen Vic, Peggy (Barbara Windsor) found out and was furious. And the more Billy denied being the thief, the more furious she got. So he only had himself to blame when his and Honey's landlady gave up waiting for the rent and threw them and all their belongings out on the street. To be fair, Peggy did offer to take them back to the Vic, all she wanted was a sincere apology but Billy refused to grovel in front of his kids. Poor Honey's patience was sorely tested…
10 Years Ago in the Soaps - Coronation Street
Michelle Connor couldn't believe her eyes when she knocked at the door of Nick Neeson, the man who had been stalking her son Ryan, and came face to face with a lad, Alex, who was the spitting image of her late partner, Dean. She needed answers 10 years ago, and Nick came up with them... He told Michelle that he and his wife had discovered they weren't Alex's biological parents and believed he and Ryan had been swapped at birth. Michelle dismissed the story as lies and was angry when Alex's mum Maggie turned up at The Rovers, suggesting they get a DNA test done. Michelle was in denial.She was certain that Ryan was her son and a DNA test wouldn't change that… would it?
You would have thought Sarah Grimshaw (Tina O'Brien) would have been thrilled her nasty little brother David Platt (Jack P Shepherd) had been offered a job in Turin and would soon be out of her hair. But Sarah was bitter after everything David had put her through 10 years ago and furious he'd been given this wonderful opportunity. So she determined to scupper it. She dripped poison into mum Gail's ear, suggesting David was on drugs again, then planted ecstasy tablets in his wallet and made sure granny Audrey found them. Next thing, his uncle Stephen said he would have to reconsider the job offer and David wallowed in disappointment. Sarah was delighted she had finally given him a taste of his own medicine, but David was a dangerous man to cross swords with. And he knew Sarah was behind his downfall…
10 Years Ago in the Soaps - Emmerdale
Val Lambert (Charlie Hardwick) suspected Eric Pollard (Chris Chittell) was having an affair with another woman but he wiped all her fears away by proposing! Val was thrilled, lost no time in saying 'yes please!' and delighted in flashing her expensive ring to anyone willing to admire it. The locals weren't convinced Pollard would actually go through with the wedding and Betty Eagleton opened a book on it. Pollard placed a bet that he would marry Val or owe Betty ten grand. So the weddding DID happen!
Daz Eden (Luke Tittensor) felt the wrath of Jimmy King (Nick Miles) 10 years ago after Jimmy's half-sister Scarlett Nicholls (Kelsey-Beth Crossley) let him think that she and Daz had slept together. Jimmy stormed over to the garage and floored Daz with a punch and it was at this point that Scarlett owned up to lying! Later, Daz admitted to Debbie Dingle (Charley Webb) that he used to like Scarlett but not any more and he told Scarlett he didn't want anything more to do with her. Sensible lad!
10 Years Ago in the Soaps - Hollyoaks
Tragedy haunted Hollyoaks 10 years ago when suspicions led to an attempted suicide. Simon Crosby was a lifeguard at the local swimming pool and saved young Tom Cunningham from drowning. But when Gilly Roach (Anthony Quinlan) and Tom's brother Max found photos of young boys in swimming trunks on his computer and a locked boy's bedroom at his home, they suspected Simon of being a paedophile. Rumours soon circulated and Simon was attacked and badly beaten. When Simon's ex-wife Gemma heard, she explained the bedroom was a reminder of their son who had drowned and the photos were for swimming certificates. She, Max and Sam OB O'Brien rushed round to Simon's house to find him unconscious, clutching a photo of his son. Happily, Simon pulled through…
Hollyoaks High's careers boss Pete Webster (Richard Cambridge) should have known better than to mess with the McQueens. Tina (Leah Hackett) had been sacked from her job with him after he tried to rape her 10 years ago. But Tina had the last laugh when her sister Jacqui took over her role then seduced Pete in a school office. Once she'd persuaded him to take his clothes off, she did a runner with them leaving him standing there starkers.
Get the What to Watch Newsletter
The latest updates, reviews and unmissable series to watch and more!