10 Years Ago This Week in the Soaps: July 10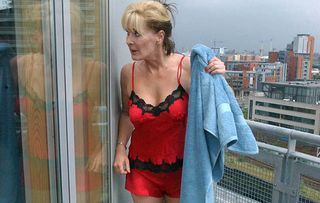 Remind yourself of all the soap drama that was happening in Corrie, Emmerdale, EastEnders and Hollyoaks 10 years ago this week!
Casting our minds back to this week in 2007, Cheating Liz McDonald confesses in Coronation Street, there's massive embarrassment for Ashley Thomas in Emmerdale, Mickey has a broken heart in EastEnders and there's double trouble at a double wedding in Hollyoaks.
Coronation Street
No, Liz McDonald (Beverley Callard) did not become a lingerie model 10 years ago… She did become frustrated with her lazy fiance Vernon and cheat on him with the Rovers' deliveryman Derek. And when Derek's wife Linda unexpectedly arrived at their flat while Liz and Derek were getting naked, Liz was forced to hide on the balcony... in her frillies!
She got away, but came face to face with a tearful Linda a couple of days later… Linda told Liz she was sure Derek was cheating on her – and Liz confessed that she was his other woman, but that their affair was over!
Rosie Webster (Helen Flanagan) wasn't washing windows 10 years ago… She was hired as a PA by Carla Connor (Alison King), who had pulled rank over her brother-in-law and new partner Liam (Rob James-Collier), just to make sure he knew she meant business. It was also a shock for Rosie's mum, Sally, who was a knicker-stitcher at the factory and upset that her daughter had a better job than she had.
Emmerdale
This time 10 years ago, village vicar Ashley Thomas (John Middleton) was married to Laurel for the first time and not the cheating type. But that didn't stop Emily Kirk (Kate McGregor) from making a disastrous pass at him, when she mistook his act of kindness for something it definitely wasn't! Awkward!
Marlon and Donna Dingle (Mark Charnock and Verity Rushworth) had been looking after his cousin Lilith's children for months, after she was arrested for armed robbery. And they had thrown themselves whole-heartedly into playing Mum and Dad to Luke, Mark, Matthew and Jon. They fully expected Lilith (Amanda Hennessy) to be jailed and to keep custody of the children. But in a shock twist, Lilith's trial collapsed and she was freed. She returned to Emmerdale long enough to collect her kids and leave for Ireland, which left Marlon and Donna devastated.
EastEnders
It was heartbreak time for Mickey Miller (Joe Swash) 10 years ago, when his live-in girlfriend Li Chong (Elaine Tan) decided things were getting too serious too fast and packed her bags. That was after she had shocked Mickey by growing cannabis in their closet and signing him up as a male escort without asking him. You'd have thought that after all that he would be glad to see her go, but he wasn't.
Friday, July 13 2007 nearly proved very unlucky indeed for Max Branning (Jake Wood). Max was still angry about his former lover Stacey's relationship with his son, Bradley and, to make himself feel better, he tried to pick up a woman called Sian (Claire Adams) in the cafe. She turned him down, but then appeared in his house. It turned out Sian was a business associate of Max's wife, Tanya (Jo Joyner) – and it was another close call for the bad lad.
Hollyoaks
This was also the week of a double wedding in Hollyoaks… Mercedes McQueen (Jennifer Metcalfe) is at the altar with Russ Owen (Stuart Manning), ready to become his Mrs, when Louise Summers (Roxanne McKee) interrupted the ceremony to announce that Mercedes had slept with Warren Fox. Well, what woman in the village hadn't? Still, Warren was claiming that Mercedes was his alibi for the attack on Clare Devine, which she was. But Mercedes' half-sister Tina lied for her and Russ married her.
Tina (Leah Hackett) was the other wedding happening in Hollyoaks and she lied for Mercedes purely to keep her marriage ceremony to Dominic Reilly (John Pickard) on track… Tina and Dom tied the knot, but Tina was still furious with Mercedes and told her she would never forgive her for ruining her big day.
Get the latest updates, reviews and unmissable series to watch and more!
Thank you for signing up to Whattowatch. You will receive a verification email shortly.
There was a problem. Please refresh the page and try again.