6 Big Questions Raised By Casualty's Autumn Trailer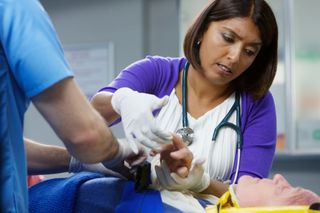 (Image credit: BBC/Simon Ridgway)
Could Zoe Hanna be returning to Holby? Casualty's new trailer suggests Sunetra Sarker is due for a return and raises many more questions!
Need to get the heart pumping before Casualty returns on Saturday? Then look no further than the medical drama's new autumn trailer! It raises many questions about future storylines.
Here are our top queries:
1. Why is Sam no longer a doctor?
The return of Sam Nicholls (Charlotte Salt) raises many questions such as… Why is she no longer a doctor? How will her ex-lover Iain Dean (Michael Stevenson) react to his new paramedic partner? Will she cause Iain and doctor Lily Chao (Crystal Yu) to grow further apart? Who's going to tell doctor Dylan Keogh his ex wife is back in town and working alongside the man she cheated with? And where-oh-where is her husband doctor Tom Kent?
Casualty we want answers!
2. Who's that new guy?
There's a new FI in town called Rashid Masum. At the moment there's not a lot to go on, but we're sure Casualty has big plans for him. We can tell you he's played by Neet Mohan, who starred in Strike Back, Line of Duty and No Offence. Can't wait to see which members of the ED team Rashid bonds with and, more importantly, who he bugs!
3. Is Josh Griffiths back for good?
Josh (Ian Bleasdale) has been no stranger to popping up in Holby as a paramedic manager recently. But to see him feature so prominently in the autumn trailer makes us wonder, is he returning more permanently? Like Casualty staple Charlie Fairhead we're delighted to see Josh back, and would like to thank him for getting Sam Nicholls a job at Holby's Ambulance service…
4. Is Zoe Hanna returning?
There's no doubt about it, doctor Zoe Hanna's departure has left a big hole in Max's heart – and ours too. So when we see a forlorn Max (Jamie Davis) writing a text to Zoe reading 'Hey Zoe – how are you?' we can't help but hope this means the return of Sunetra Sarker and a happy ending for Max and Zoe. #Zax
Of course the trailer could be setting us up for disappointment – Max may not even send the text! Or Zoe may reply and say she's now happily married to old flame Nick Jordan…
5. What secrets are Connie and Ethan keeping for each other?
Okay, we're fairly sure Ethan's secret is that he let Cal's killer Scott Ellisson choke to death, but what is Connie (Amanda Mealing) hiding? Is Connie's secret related to Sam and Grace's disappearance? And can she really trust Ethan, who seems to be on the verge of a nervous breakdown? We're also desperate to know who sends Ethan (George Rainsford) the anonymous note with the threat 'I know what you did'...
6. Why does David slap Dylan?
We're certain this is a big series for doctor Dylan Keogh (Will Beck), especially as Cagney & Lacey star Sharon Gless guest stars as his surgery mentor Zsa Zsa Harper-Jenkinson.
Is her appearance in Dylan's life related to his guilt over Cal's death? Or is connected to his stint volunteering at a French refugee camp? Whatever happens with Dylan it looks like nurse David Hide (Jason Durr) is by his side every step of the way. But what on earth prompts the shy nurse to slap Dylan?
Get the latest updates, reviews and unmissable series to watch and more!
Thank you for signing up to Whattowatch. You will receive a verification email shortly.
There was a problem. Please refresh the page and try again.