From Nerys Hughes to Nurse Jackie – TV's Top 10 Nurses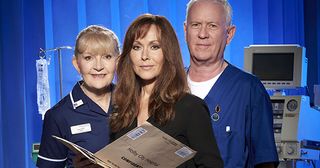 (Image credit: Dan Goldsmith)
They're the backbone of some of our most beloved TV programmes, but who are the nurses that keep the wards running? Here are TV's top 10 carers...
Where would TV be without medical drama and misadventures to be had on and off the wards! And where would any medical drama be without the nurses, up to their elbows in gore and locking lips with co-workers?
Much more Florence Nightingale than Nurse Rached, here are the TV nurses that have come to our aid when we've needed it most...
10 Lisa 'Duffy' Duffin (Cathy Shipton) – Casualty: 1986-present
Duffy has returned to Holby City Hospital as the voice of reason and Nurse Charlie Fairhead's number 1 fan. Duffy is an original member of the team since 1986 and, although she's been in and out of the series, it looks like this time she is back to stay. Keep calm and call Nurse Duffy!
9 Megan Roberts (Nerys Hughes) – District Nurse: 1984-1987
Made by the duo who created EastEnders, Tony Holland and Julia Smith, BBC1 drama District Nurse shared its earnest depiction of working class life. Megan Roberts cycled around a small Welsh mining town fighting to improve living and health conditions in the poverty stricken community during the 1920s and '30s.
8 Jackie Peyton (Edie Falco) – Nurse Jackie: 2009-2015
Jackie was the epitome of the modern ER nurse. Highly skilled, technical, harassed, determined... But she had an additional hurdle – she was a drug addict and needed a cocktail of Vicodin and Xanax to get her through life as she lied to, cheated and disappointed her nearest and dearest. That Edie Falco made her into a figure of sympathy was a remarkable feat and Jackie is definitely on our list.
7 Anna Kirkwall (Lesley Dunlop) – Where The Heart Is: 2000-2006
Arriving in Skelthwaite as an outsider and single mum, Anna not only looked after her patients at the health centre but soon took the health and well-being of all the inhabitants of Skelthwaite to heart, becoming one of the most-loved members of the community. The kind of nurse who always delivers.
6 Beth Nicholls (Jo Joyner) – No Angels: 2004-2006
Played by a fresh-faced Jo Joyner, Beth lived up to the programme's title and spent as much time chasing after rich doctors as she did looking after patients, but by the end of three series of the Leeds-based drama, she'd chosed love over money as she settled down with a plumber.
5 Ruth Goddard (Sarah Lancashire) – District Nurse: 1997-1999
Sarah Lancashire next chose to play headstrong, no-nonsense nurse Ruth after she left Corrie's ditzy Raquel Wolstenholme behind... and she was soon nominated as best actress at the National TV Awards for her role in this hit ITV drama. Ruth worked alongside her sister-in-law Peggy Snow and struggled to combine work and family life.
4 Kim Wilde (Jo Brand) – Getting On: 2009-2012
Jo Brand used her real-life experience as a psychiatric nurse to play Kim, a nurse returning to work on the geriatric ward of an NHS hospital in this BBC sitcom. Kim struggled with political correctness and was involved in numerous battles when she put the needs of her patients before form-filling and sticking to the rules. What we call a keeper.
3 Chrissie Williams (Tina Hobley) – Holby City: 2001-2013
Chrissie Williams was the feisty ward sister who in her tumultuous time at Holby: was held hostage by a consultant; fell in love with a doctor she later found out was gay; and got pregnant after a one night stand. And that was just one episode!
2 Charlie Fairhead (Derek Thompson) – Casualty: 1986-present
Casualty's Charlie Fairhead has just shared his 30th anniversary with perennial BBC favourite Casualty. Charlie is strong minded, strong willed and level headed, everything you want in a nurse. His first priority is his patients, but he never backs down when fighting for the rights of his team against over-zealous management.
1 Carol Hathaway (Juliana Margulies) – ER: 1994-2000
Carol was nurse manager at Chicago County General Hospital in this long-running US medical drama. She was a force to be reckoned with and as well as being an amazing nurse to her patients, she fought and looked after the rights of her nurses. At one point Carol decided to retrain as a doctor, but then changed her mind when she realised she could be just as must benefit to people as a nurse
She also got to snog George Clooney on a regular basis.
Unquestionably, our number one on the TV wards.
Get the latest updates, reviews and unmissable series to watch and more!
Thank you for signing up to Whattowatch. You will receive a verification email shortly.
There was a problem. Please refresh the page and try again.