Something for the Weekend: Red Oaks, Grace and Frankie, and The Living and the Dead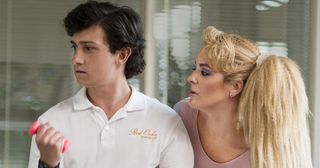 (Image credit: Amazon/Everett/REX/Shutterstock)
Stuck for something to watch this weekend? Sit back and enjoy streaming standouts Red Oaks (Amazon Video), Grace and Frankie (Netflix) and The Living and the Dead (BBC iPlayer)
If you think telly is a bit lacking over the summer, have a peek at these top shows available on streaming services Amazon Video, Netflix and BBC iPlayer...
Red Oaks (Amazon Video) (opens in new tab)
Liberate your leg warmers and heat up your hair crimper for Amazon's 1980s-set coming-of-age comedy, Red Oaks.
https://www.youtube.com/watch?v=OcGIvQJhbSY
The streaming service's original 10-part series follows US college kid David (Welsh actor Craig Roberts) as he takes a summer job as an assistant tennis coach at the exclusive Red Oaks Country Club.
On the cusp of adulthood, David toys with the idea of taking his life in a new direction, but his plans may be thwarted by the likes of his totally leotarded aerobics instructor girlfriend Karen (Gage Golightly) and his odd-couple parents Sam and Judy (US comedy stalwart Richard Kind and Dirty Dancing's Jennifer Grey).
Join David, and his characterful colleagues at the Red Oaks Country Club, for a summer season he's unlikely to forget...
Grace and Frankie (Netflix) (opens in new tab)
Real-life friends (and 9 to 5 co-stars) Jane Fonda and Lily Tomlin play the title characters in this Netflix original comedy drama: Grace, a retired cosmetics mogul and Frankie, a hippie art teacher.
https://www.youtube.com/watch?v=CDv6PRi1SgQ
Grace's husband Robert (Martin Sheen) and Frankie's husband Sol (Sam Waterston) are successful divorce lawyers in a San Diego legal firm - they've also got an announcement to make: they've been having an affair with each other for more than 20 years and they're leaving their wives because they now want to get married!
Abandoned by their husbands, Grace (Fonda) and Frankie (Tomlin), who have never particularly liked each other, are forced to live together and support one another as they try to make sense of the sudden twist in their fortunes – and newly single life – in their 70s...
The Living and the Dead (BBC iPlayer)
All six episodes of BBC's supernatural drama, which launched on BBC iPlayer before it began airing on BBC1, are still available on the streaming service, but not for long! Catch them now before they spookily vanish...
https://www.youtube.com/watch?v=pnmqYl5PbI8
Set in the Somerset village of Shepzoy in 1894, The Living and the Dead centres on Nathan Appleby (Merlin's Colin Morgan), a pioneering psychologist who returns to his ancestral home to run the family estate and turn around the farm's fortunes. It isn't long, however, before Nathan and his wife Charlotte (Charlotte Spencer) find their lives shattered by a series of horrifying events in and around their home.
Have secrets from the Appleby family's past come back to haunt them? Are the supernatural goings-on in Shepzoy tied to the village's dark history? Is there something strange in the neighbourhood?
Get the latest updates, reviews and unmissable series to watch and more!
Thank you for signing up to Whattowatch. You will receive a verification email shortly.
There was a problem. Please refresh the page and try again.