Blu-ray review | The Man Who Haunted Himself (1970) | Basil Dearden and Roger Moore's lost British classic resurfaces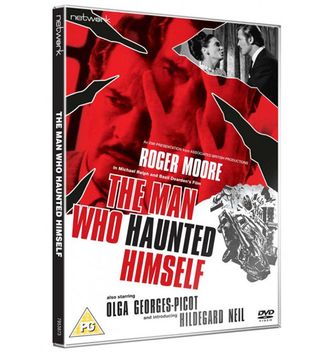 THE STORY After a life-saving operation following a car crash, London businessman Harold Pelham (Roger Moore (opens in new tab)) wakes up to find his more extrovert double has been released and is now taking over his life – both at the office, where his firm is undergoing a merger, and in his private life, where an attractive woman claims to be the married CEO's mistress. Determined to prove the doppelgänger exists, Pelham sets out to track his double down…
THE LOWDOWN In his last pre-Bond film, Roger Moore (opens in new tab) gives one his finest performances in this taunt and gripping psychological thriller, directed by acclaimed veteran director Basil Dearden (opens in new tab), that has been rarely seen since its brief cinema release in 1970.
Known for his cheeky turns in The Saint (opens in new tab) and The Persuaders! (opens in new tab), this film showed Moore could play it straight, and he does so here with careful restraint. Indeed, Moore cites the role of the stuffy corporate Pelham undergoing an almost supernatural existential crisis as being one of the only times he really acted.
While Moore manages not to raise his trademark single eyebrow, it's Freddie Jones, in one of the film's most visual arresting scenes, who gets to ham it up as an eccentric psychiatrist. The frenetic score, meanwhile, from Michael J Lewis (opens in new tab) (whose 1973 Theatre of Blood (opens in new tab) score uses similar thematic devices) only serves to heighten the film's haunting, trippy, disconcerting atmosphere.
Not surprisingly, the film's downbeat story and skewed themes didn't exactly have cinemagoers rushing to see the movie. But Moore, in the DVD commentary with the film's scriptwriter Bryan Forbes (opens in new tab) (who died last month), cites poor marketing and distribution as the real factor behind the film's failure.
The Man Who Haunted Himself is a lost British classic that deserves more respect, and this new high definition restoration is surely the first step towards rediscovering a true cinematic gem. And I'm with Moore that this film is so deserving of a sequel.
THE DISC The Network Region 2 PAL DVD release (available from 24 June 2013) eatures a HD restoration from original film elements in its 1.75:1 theatrical aspect ratio on both Blu-ray and DVD. The special features include a 34-minute music suite of Michael J Lewis's score, a commentary from 2001 with Roger Moore and the late Bryan Forbes, original theatrical trailer, four image galleries, including storyboards, and promotional material PDFs. The DVD also features the full frame 4:3 as-filmed version of the feature.
DID YOU KNOW? Besides Moore, the film's big stars were a 1969 Rover 3.5 Litre Saloon (P5B) (opens in new tab) and a Lamborghini Islero 400 S (GTS) (opens in new tab) http://youtube.com/v/vyRPOIFF4pE
Get the latest updates, reviews and unmissable series to watch and more!
Thank you for signing up to Whattowatch. You will receive a verification email shortly.
There was a problem. Please refresh the page and try again.