Bodyguard star Keeley Hawes reveals how she uses work to manage depression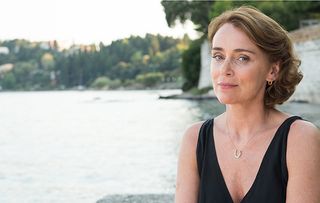 The actress uses her job to help with her mental health
She's best known for being an outstanding actress on the likes of Line Of Duty, Bodyguard and The Durrell's. But behind-the-scenes, Keeley Hawes uses her work to help deal with demons of her own.
There's a reason the 43-year-old actress is rarely off of our television screens - Keeley's jam-packed schedule helps her manage her depression.
"Keeping busy helps, being forced to carry on, because inevitably it will pass," she revealed in a candid chat about her mental health. "I have become better equipped at looking after myself. I've tried various things over the years."
Talking about her crippling battle with anxiety, mum-of-three Keeley said, "It's something that never goes away. I think it is in your DNA if you suffer with it. It's a very human thing, isn't it, to worry about what you say and how you are perceived."
And, playing Julia Montague in Bodyguard - the most-watched drama ever in the UK - certainly had people talking. But, thankfully for all the right reasons.
So what was the secret behind her chemistry with co-star Richard Madden?
"The secret is we didn't stop laughing," she said. "You know when someone just tickles you? I felt safe with him.
"We had some very odd things to do together, which means you have to trust each other and I really did trust him."
Despite her huge success, Keeley proved she's down-to-earth as she confessed to still worrying about paying the mortgage.
'These are only very brief moments in our lives," she said of her career highlights. "I don't live in the bubble. I live in a world with three children and paying the mortgage, worrying about the world, my family, my friends.
"That's the real bubble, your life. Everybody, whatever you do – if you're a nurse – you go into that little bubble. Whatever you do is intense for you."
Get the latest updates, reviews and unmissable series to watch and more!
Thank you for signing up to Whattowatch. You will receive a verification email shortly.
There was a problem. Please refresh the page and try again.