Box Set Binge: The Fall, Orphan Black and Utopia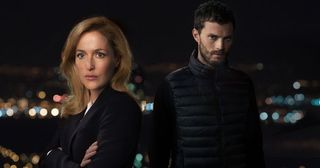 (Image credit: BBC/The Fall 2 Limited/Helen Slo)
Stuck for something to watch this weekend? Sit back and enjoy streaming stand-outs The Fall (Amazon Video), Orphan Black (Netflix) and Utopia (All 4)
Have a peek at these top shows available on streaming services Amazon Video, Netflix and All 4...
The Fall (Amazon Video) (opens in new tab)
The cat-and-mouse game between serial killer Paul Spector and Detective Superintendent Stella Gibson had us hooked across two gripping series of BBC2 drama The Fall. We can expect more edge-of-the-seat moments when the series returns later this autumn.
If you missed the first two series, or want to rewatch the drama before the new series begins, binge on all the episodes from series 1 and 2 on Amazon Video now.
https://www.youtube.com/watch?v=tP5Tl04gv3g
Stella Gibson (Gillian Anderson), a senior detective from London's Met Police, is sent to Belfast to oversee an open investigation into the murder of a young woman. It becomes clear that a serial killer is on the loose – a man identified to viewers from the start as Paul Spector (Jamie Dornan).
Spector is a father, husband and professional bereavement counsellor, but he harbours a dark and twisted side – stalking and killing young women in the city of Belfast.
Stella leads her team in a race against time to catch the killer, but will her private life and personal motivations derail her investigation? Meanwhile, Spector faces a battle to keep his family life from shattering. Whose world will crumble first - the hunter or the hunted?
Orphan Black (Netflix) (opens in new tab)
It would be unfair to call Canadian actress Tatiana Maslany two-faced - the award-winning star has at least five faces and they're all on display in Netflix clone thriller Orphan Black.
https://www.youtube.com/watch?v=i-UEa_BIHqU
The first series opens with street-savvy petty criminal Sarah Manning (Maslany) arriving at a train station. On the platform, she spots a woman acting strangely and approaches - in the split second before the woman throws herself from the platform into the path of an oncoming train, Sarah locks eyes with her and is stunned to find they look so similar they could be twin sisters. Sarah, a con-artist by by trade, makes off with her dead doppleganger's purse and later spots a golden opportunity – she can assume the dead woman's identity and take control of her finances.
As the story progresses, Sarah's world is turned upside down by a shocking discovery – she is a clone and has numerous 'sister' clones in North America and Europe (all played by Maslany) who are being killed. Assuming the identity of one of the clones may have put her in more danger than she could have realised. Follow Sarah across four series as she encounters her fellow clones and seeks to unravel the mysteries of why they were created and who wants them destroyed.
Conspiracy thriller Utopia caused a stir when it first aired on C4. Its striking visuals, multi-layered mysteries, impressive ensemble cast, and unflinching violence ran across two series - both of which are available now on C4's streaming service All 4.
https://www.youtube.com/watch?v=6EaP3cH9d-I
Utopia centres on a small group of strangers from an online comic book forum who agree to meet after one of them finds themselves in possession of a fabled original manuscript – a sequel to a cult graphic novel, The Utopia Experiments, which is believed to have predicted global disasters.
Their possession puts them in grave peril from an organisation called The Network, whose sinister operatives set out to kill the group, and anyone who gets in their way, in a bid to retrieve the manuscript.
For the group – including student Becky, IT consultant Ian, survivalist geek Wilson Wilson and troubled youngster Grant – this means life on the run, evading The Network at every turn, while trying to unpick the mysteries of the manuscript. Will the secrets of Utopia be revealed?
Get the latest updates, reviews and unmissable series to watch and more!
Thank you for signing up to Whattowatch. You will receive a verification email shortly.
There was a problem. Please refresh the page and try again.