Breathless (1959) | Blu-ray release - Jean-Luc Godard's crime thriller is the epitome of cinematic cool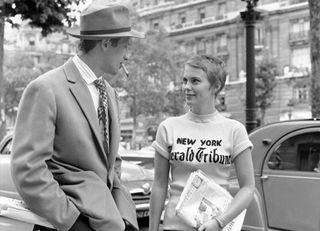 Jean-Luc Godard's debut film Breathless (À Bout De Souffle) was the big hit at Cannes in 1959 and a cinematic trendsetter that kicked off the French New Wave. Slick and sexy and filmed from the hip (literally, the cameraman used a wheelchair for the tracking shots) on the streets of a picture postcard Paris, Godard threw out the rulebook for this sly take on American gangster films.
Jean-Paul Belmondo plays a small-time villain turned killer on the run with a fixation for Humphrey Bogart, while Jean Seberg is the chic American girlfriend he's recklessly in love with. Despite the cops breathing down their necks, the couple live life on the edge all set to a jazzy-cum-Mozart soundtrack. This one's the epitome of cinematic cool.
Breathless (À Bout De Souffle, Cert 15, 115min) is available on StudioCanal's Jean-Luc Godard The Essential Blu-ray Collection five-disc box set alongside featuring Alphaville, Le Mépris, Pierrot Le Fou, and Une Femme est Une Femme. The special features include the following:
• Introduction by Colin McCabe (5min)
• Godard, Made in USA (51min)
• Room 12. Hotel de Suede (79min)
• Jean-Luc According to Luc (8min)
• Jefferson Hack interview (8min)
• Tempo: Godard episode (17min)
• Jean Seberg featurette (12min)
• Trailer (3min)
• Posters
Jean-Luc Godard, is also being honoured with a 60-year retrospective at the BFI Southbank in London until March. Click here for details (opens in new tab).
Thank you for signing up to Whattowatch. You will receive a verification email shortly.
There was a problem. Please refresh the page and try again.