Charlotte Ritchie on this Sunday's Call the Midwife: Barbara and Phyllis risk their own lives to save a family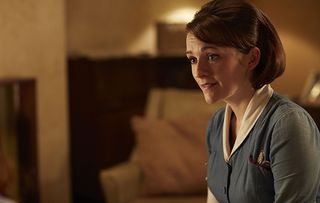 (Image credit: BBC/Neal Street productions)
Charlotte Ritchie on an action-packed episode of Call the Midwife
Having only returned to Poplar in last week's Call the Midwife, nurse Barbara Hereward finds herself straight back in at the deep end in Sunday night's episode when she has to save a family involved in a house fire, as actress Charlotte Ritchie reveals.
There are some new faces in town as Pearl Davidson, husband Terry and their two children have moved from their native Ireland to set up home and run the local newsagents in Poplar.
The family are thrilled to be starting a new life – but tragedy strikes when Terry is killed suddenly in a car accident. Pearl is heavily pregnant and, as Barbara calls around to do her pre-natal checks, the pair soon forms a bond.
Barbara comforts a recently widowed and heavily pregnant Mrs Davidson
So Barbara's alarmed when, on returning home from a night out with Nurse Phyllis Crane (Linda Bassett), they find smoke bellowing out of the newsagents.
Fearing Pearl and her family are trapped in the flat above the shop, Barbara calls the fire brigade and an ambulance while Phyllis smashes through the shop door to gain entry.
Phyllis heads in through the smoke to alert the Davidson family to the fire burning below. Unable to escape via an upstairs window, however, Phyllis has no choice but to hurry the family out through the shop.
A worried Phyllis (Linda Bassett) knows she has to try and save the family
With the flames rising, Barbara reappears and helps get the family to safety.
And it sounds like actress Charlotte Ritchie – who plays Barbara – had lots of fun filming the episode. "Filming those fire scenes was so exciting," said Charlotte. "I love fire and enjoyed staring into the flames but, don't worry, I'm not a pyromaniac!"
Explaining more about filming the scenes, Charlotte revealed: "I had to be dusted with charcoal, which meant I couldn't sit down anywhere and no one would come and talk to me in case I got their clothes all dirty."
When a ladder falls in the shop, it looks like Phyllis might be trapped inside...
"There's a real moment of not knowing whether Phyllis is going to come out," said Charlotte. "Apart from Tom, I think Phyllis is probably the person Barbara is closest to. So for Barbara to even consider for a split second that something might happen to her is devastating!"
Will both nurses survive? Find out in Call the Midwife on Sunday February 25 at 8pm on BBC1.
Get the latest updates, reviews and unmissable series to watch and more!
Thank you for signing up to Whattowatch. You will receive a verification email shortly.
There was a problem. Please refresh the page and try again.