Call the Midwife star Laura Main: 'Shelagh's joy is tempered with sadness'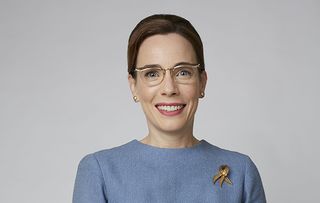 (Image credit: BBC/Neal Street Productions/Nick)
Call the Midwife's Laura Main on the seaside coming to east London, new medical challenges and possible storms ahead for Shelagh...
Summer seems a distant memory but Call the Midwife is bringing some sunshine into our living rooms this Sunday as the residents of Nonnatus House experience the joys of the seaside – without leaving Poplar!
To celebrate Whitsun, Phyllis (Linda Bassett) and Vi (Annabelle Apsion) arrange for a temporary beach to be set up outside Nonnatus complete with sand, an ice cream van and even a donkey!
TV Times caught up with Call the Midwife star Laura Main, 37, who plays Shelagh Turner, for an exclusive chat about the holiday vibe…
Did you enjoy filming the beach scenes on your set in Surrey?
"They were loads of fun! It was a hot day so we were fighting for shade, but it was incredible what 'Poplar' looked like. We had a paddling pool and some of the nuns dipped their toes in! There's always a feel-good atmosphere for those filming days because you catch up with actors you haven't seen recently and everybody's dressed up."
Was it fun for the young actors who play Shelagh and Dr Turner's [Stephen McGann] children too?
"They did and that was one of my first days filming with the new little boy playing baby Teddy and it was wonderful exploring that set with him. Normally when filming, you wait on your mark but you just have to keep him amused. He didn't need encouragement to pop his head through the beach cut-outs to pose for photos!"
There are also some tough medical stories this week and Shelagh helps a worried mum as the Turners instigate a measles vaccination trial…
"Yes, seeing the start of measles vaccinations reminds us why you have to vaccinate so it's important to have it on primetime TV. Shelagh's all for it, although when Teddy's the demo, she's fearful. One mum, Hazel [Matti Houghton], having been told what could happen if her baby gets measles, is keen to take part but she gets anxious when her child's too young for the trial. There's something else going on though and a cause for concern because she's very distressed, so we try to support her."
Do you like seeing Shelagh dealing with patients again?
"Yes it's great she's working more as a nurse now. Shelagh's a brilliant organiser but passionate about medicine and caring for others so it's nice she's using those skills and, as an actor, I enjoy working with the guest actors in those more personal scenes. Having Miss Higgins [Georgie Glen] on reception has freed Shelagh from that admin role but we discover hidden depths to Miss Higgins this week and see she's caring too."
This episode also features a newborn with a cleft palate and an animatronic baby was used. Are you still amazed at what the team creates behind-the-scenes?
"It's incredible what they do. The first time we had an animatronic baby was for the thalidomide story [in series four] so it's similar technology. I just feel proud to be doing a show that tackles issues that still affect people now - from women's issues to family issues."
The Turners are fostering Chinese orphan May now, can you tease where that story will lead?
"Well, Shelagh says that some people foster for years so she hopes that could happen. Dr Turner [Stephen McGann] adores May too but doesn't want Shelagh to get hurt, knowing they could get a call at any time to give her back, so that's hanging over them. The joy May brings is tempered with sadness as to what might come…"
Is it nice working with little April, who plays May?
"Yes and she and Alice [who plays the Turners' adopted daughter Angela] get on so well. One day Alice wasn't on set and April was upset. Both girls are brilliant though. We've known Alice since she was six months old, so it's lovely seeing her growing up and now she delivers lines. And April's incredible at getting into character because she's more outgoing than May. She's good at continuity too. One day we had to stand somewhere different for a shot and she reminded me, 'No, we're back here now.' It's great having a four-year-old keeping you right!"
Are you looking forward to filming the next series later this year?
"Yes I just finished a tour of Shrek the Musical and it looks like we might start series nine a bit earlier than we normally do, so I don't have much of a gap. It's been a wonderful year. I've never been as busy. I'd never wish for things to be quiet!"
Call the Midwife continues on Sundays at 8pm on BBC1.
INTERVIEW BY CAREN CLARK
Get the latest updates, reviews and unmissable series to watch and more!
Thank you for signing up to Whattowatch. You will receive a verification email shortly.
There was a problem. Please refresh the page and try again.