Everything we know about new Casualty doctor Archie Hudson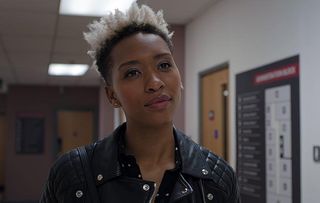 (Image credit: BBC)
She came, she parked without permission, was punched, and made a tonne of enemies. Welcome to Casualty doctor Archie Hudson!
There's nothing like making a good impression. And it's safe to say new Casualty registrar Archie Hudson did nothing like making a good impression when she joined Casualty this week.
Here's everything we know about new Casualty character Archie, played by talented TV newcomer Genesis Lynea…
Rules are made to be broken
From the get-go it is clear Archie isn't big on rules, regulations or authority. Before the titles had even rolled Archie bailed on her induction day, giving course instructor Gregory her frank views on why it was a total waste of her time to boot!
This decision comes back to haunt Archie, however, when she discovers that without a staff ID – which she should have picked up at the induction – she doesn't have access to staff parking or the hospital's vital computer system.
She cons Connie – but not for long!
Archie has transferred to Holby from Leeds where she was a specialist trainee. Elle Gardner questions why someone with Archie's qualifications would make such an unusual career move, and it soon becomes clear.
By the end of the episode Archie has confessed to Connie that she became a whistle-blower at her last hospital when a friend ended up committing suicide after gross mismanagement. The admittance comes just in the nick of time. Connie agrees to keep her on, but will not tolerate any more secrets…
Who needs friends?
Archie has a special talent for irritating colleagues. Elle's unimpressed with her over-ambitious attitude and attempts to dominate Resus. More surprisingly Duffy calls Archie out on her dismissive attitude of patients. Archie may not realise the significance of this, but it's a real shock for viewers - Duffy's one of the most tolerant characters in Casualty!
Even nurses David and Robyn, the friendliest people in the ED, seem to be keeping their distance. Fingers crossed for a run-in with Dylan soon!
Public enemies
Archie is as adept at charming patients as she is at making work pals. Before her first shift has ended, Archie tells impatient patient Trina (Doctors and Corrie star Donnaleigh Bailey) exactly what she thinks of her, resulting in an official complaint! As far as Connie's concerned, one more complaint and Archie can pack her bags.
That said, another patient later thanks Archie for her tough approach to his treatment. You win some, you lose some… either way, with Archie it's always interesting!
Is she a boxer?
When a male patient punches Archie she barely flinches and impressively carries on treating him! Archie's tough attitude earns her the rare, begrudging respect of paramedic Jan Jenning. Could the continually intriguing Archie have some boxing experience?
What's in a name?
When a patient teases Archie about her name, she reveals she chose it herself. Does this mean she's changed her name at some stage? And if so, why? Curiouser and curiouser…
It's been an action-packed introduction. Diagnosis: Genesis Lynea's screen presence is stellar and we can't wait until Archie's next shift!
Casualty continues on BBC1 on Saturday
With twenty years of experience as an entertainment journalist, Elaine writes for What's on TV, TV Times, TV & Satellite Week and www.whattowatch.com covering a variety of programs from gardening and wildlife to documentaries and drama.
As well as active involvement in the WTW family's social media accounts, she has been known to get chatty on the red carpet and wander into the odd podcast.
After a day of previewing TV, writing about TV and interviewing TV stars, Elaine likes nothing than to relax… by watching TV.
Get the latest updates, reviews and unmissable series to watch and more!
Thank you for signing up to Whattowatch. You will receive a verification email shortly.
There was a problem. Please refresh the page and try again.