Casualty star Cathy Shipton: Duffy discovers her shocking diagnosis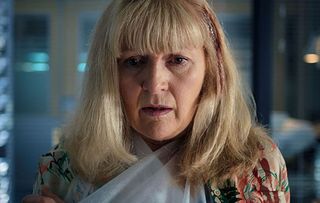 (Image credit: BBC)
There's a reason Duffy has been out of sorts recently. Actress Cathy Shipton tells us more...
Casualty fans know that Duffy hasn't been right for weeks. It's not just the shock affair with Bill that's had us worried – the panic attacks, anxiety and anti-depressants have been a real cause for concern too.
This week the long-serving nurse falls down the stairs at home and Charlie admits her to the ED, but neither suspects the horrifying diagnosis that awaits…
"She's brought into the hospital in a wheelchair, looking quite a state and we don't know if she tripped or blacked out," says Cathy Shipton, who has played Duffy since Casualty began. "She lies to Ethan and Connie by saying nothing like this has happened before – medics tend to be bad patients and she doesn't want to address what's going on, or to be a burden. Just because she's a nurse it doesn't mean she's any less frightened than anyone else would be."
After refusing to be fast-tracked, Charlie gives Duffy an iPad to help her pass the time. But Duffy does the one thing you're never supposed to do – she looks up her symptoms online. And the diagnosis is dementia. "It's the worst thing she could do to look it up," says Duffy.
"This is the start of a long-running storyline, the producers really want it to have a big impact and to de-stigmatise this issue, which is why they wanted it to affect a character the audience are invested in, like Duffy. They done a massive amount of research and they're in touch with Dementia UK."
But the big question is, after her recent infidelity (which is bound to come out eventually), will Charlie be there to hold Duffy's hand in her hour of need? "Obviously when people get together we hope it's going to be hunky dory but this is a drama and Casualty is known for highlighting relationship problems and health issues. At the moment everyone just thinks I'm a complete hussy!"
Casualty is on BBC1 this Saturday at 9.15pm.
Get the latest updates, reviews and unmissable series to watch and more!
Thank you for signing up to Whattowatch. You will receive a verification email shortly.
There was a problem. Please refresh the page and try again.