Casualty star Michael Stevenson: Iain Dean blames himself for Sam death crash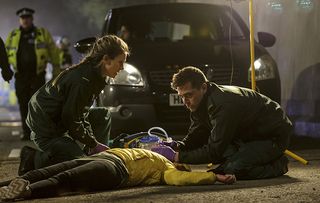 (Image credit: BBC / Alistair Heap)
Casualty star Michael Stevenson talks about Casualty's Year of the Paramedic, and what it means for his character Iain Dean…
In the closing scenes of last week's Casualty viewers were left horrified when it was revealed paramedic Sam Nicholls had been injured from shrapnel after an explosion during a motorway pileup.
When we return to Casualty this Saturday it's revealed Sam died despite her paramedic partner Iain Dean's attempts to save her. Iain (Michael Stevenson) is distraught and firmly blames himself for causing the crash that killed Sam (Charlotte Salt) and six other innocent people, including suicidal Mia. Iain believes if he'd treated Mia differently earlier that evening she may not have jumped from the dual carriageway bridge, which led to the crash.
This week Iain is angry, confused and grieving, which causes him to react and act in numerous uncharacteristic ways.
We talked to Casualty star Michael Stevenson, who reveals more about what's next for Iain Dean…
We find out for certain this week that Sam has passed away from her injuries…
Michael Stevenson: "At the end of last week's episode we were left not knowing what happens, it wasn't an absolute given. It's definitely shocking and upsetting. I think people will be on a knife-edge as to what happens in this week's episode..."
Can you reveal what happens next?
MS: "We open with the aftermath from last week. There are a number of fatalities, which are close to Iain's heart and he has a lot to answer for. There's a lot of responsibility on Iain's shoulders because of that one decision [involving Mia]. It has many, many repercussions."
Iain blames himself from the get-go. What's his state of mind like at this time?
MS: "The decisions Iain made that night sparked the events of the crash. The shock and confusion, as Iain deals with it, isn't something he's going to get over lightly. Even with his army background and stiff upper lip nature, he's without a shadow of a doubt changed by everything that's happened."
He's also secretly suffering from flashbacks. It looks like Iain's in for a tough time?
MS: "Yes, it opens up a whole new avenue for Iain that carves the rest of the series. He's never had anything like this happen to him in his life. He has to deal with this and work out how he can get over it."
It's Casualty's Year of the Paramedic. Are you excited Iain's going to be in the spotlight?
MS: "Absolutely! We always knew the producers were going to introduce new paramedics and to focus on the lives of real life paramedics, but I didn't know just how much of it was going to individually affect Iain."
Has this meant working closely with real paramedics?
MS: "Yes, we have medical advisors on set all the time. Before the scripts are issued it goes to a team of paramedic advisors. This year in particular Casualty have brought in more paramedics to the storylining [process] so that we get real paramedics' point of view. A lot of the stories we tell in this new series have come directly from working paramedics."
Does Casualty's Year of the Paramedic mean a lot of hard work for you?
MS: "I've noticed there's definitely a lot more location filming. Playing a paramedic is an exciting role in Casualty. I get a different guest storyline every week with some exciting action, so spending more time on location filming these scenes is great for me! I've never been challenged this much in my career, and I'm only half way through filming."
What does it mean to be at the frontline of Casualty's Year of the Paramedic series?
MS: "It's an absolute honour and a pleasure. I'm getting to talk to people and to lots of charities, who fill us in on posttraumatic stress and trauma. We speak to Mind, the Samaritans, and there's also a charity called Our Blue Light. Two paramedics set it up a few years ago. I met them at the NHS Hero Awards and they told me how they set up this charity to help paramedics like themselves who were too stretched and stressed, and having to deal with situations they weren't trained for."
What have you learned about the work real paramedics do?
MS: "There's so much responsibility put on paramedics nowadays, not only in medical terms. Paramedics are now called upon to be everything, social workers, medics, care workers, they get involved with re-housing people… Casualty really wants to raise awareness of what's being expected of paramedics. They used to go out and fix people but it's a whole new ball game now, and that's the story we want to tell in this series, and why I've been talking to these charities in particular. We want to make sure we get it right. Paramedics are a phenomenal bunch of people. They deserve praising and a pat on the back, and they deserve a parking space outside somebody's house if someone's poorly."
Casualty continues on Saturday at 8.40pm.
Get the latest updates, reviews and unmissable series to watch and more!
Thank you for signing up to Whattowatch. You will receive a verification email shortly.
There was a problem. Please refresh the page and try again.