Chris Packham let wasps LICK his five-year-old stepdaughter's face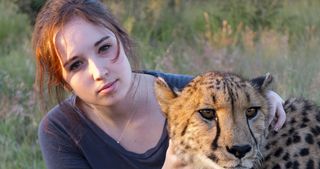 (Image credit: David Crump/REX/Shutterstock)
Chris Packham had a rather novel approach to getting his daughter used to insects – he let wasps lick jam off her face.
The Springwatch star said he was determined to ensure that his stepdaughter Megan wouldn't be frightened of bugs.
"It was important to me that Megan grew up with animals all around her. I wanted her to respect animals, communicate with them and understand them," he told The Guardian.
Chris Packham (Lewis Whyld/PA)
"When Megs was five, I smeared her face with jam and got wasps to lick it all off. I didn't want her to ever be afraid of wasps."
And it wasn't just wasps that Megan got up close and personal with.
Wildlife presenter Chris said: "She's also been scratched by a tiger and bitten by a meerkat. And a snake. We laughed about it – well, after she'd finished crying."
Megan in 2014 (David Crump/REX/Shutterstock)
It seems the star's tactics paid off, as Megan has clearly inherited his passion for animals and nature.
He said: "She's very passionate about animal welfare. At the moment, she's working for a charity in China, helping them provide behavioural enrichment for bears that have been rescued from bile farms. I couldn't have asked for more."
Get the latest updates, reviews and unmissable series to watch and more!
Thank you for signing up to Whattowatch. You will receive a verification email shortly.
There was a problem. Please refresh the page and try again.