Coronation Street actor Charlie de Melo teases Imran Habeeb's dramatic revenge plot after shock factory collapse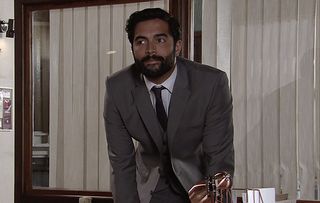 (Image credit: ITV/REX/Shutterstock)
Coronation Street viewers were left shocked last week when Rana Habeeb was tragically killed off in the factory fire on her wedding day.
But it looks as though things are about to get even more dramatic, as Corrie actor Charlie De Melo has teased his character Imran Habeeb will seek revenge.
Imran was left devastated by the death of his sister - played by Bhavna Limbachia - and becomes desperate for someone to blame.
Charlie explained: "He's completely devastated and the way in which he's expressing that and dealing with it is by projecting everything outwards in a blind fury.
"It all seems so senseless and he wants to find out who's responsible, he's not satisfied with the idea it was just an accident, that's not good enough for Imran, this needs to be a problem that he can solve."
The actor then went on to reveal Imran will be setting his sights on Underworld boss Carla as he becomes hell-bent on uncovering her role in the roof collapse.
"It needs to be someone's fault, there needs to be a dragon he can slay rather than just dealing with his grief," he continued.
"His eyes immediately go towards both Nick and Carla in so far as they were in charge of that building and should have known what was going on.
"They're negligent at best but as time goes on he takes on a kind of detective role; talking to eyewitnesses, people who worked in the factory, trying to piece the puzzle together."
Teasing at future drama, Charlie added: "It makes him more suspicious, surely these aren't the things you should be saying in the middle of a very serious investigation.
"There are people who seem to be acting in Carla's interests rather than those who are directly affected and that becomes something of an obsession for Imran.
"He wants justice to be served and by people going easy on Carla due to her fragile state it seems to Imran like the wrong person is being prioritised here."
We'll have to wait and see what drastic measures Imran is willing to take.
Coronation Street continues on Mondays, Wednesdays and Fridays at 7.30pm and 8.30pm on ITV.
Get the latest updates, reviews and unmissable series to watch and more!
Thank you for signing up to Whattowatch. You will receive a verification email shortly.
There was a problem. Please refresh the page and try again.