Coronation Street star Charlie Lawson on his mini-stroke: 'I knew something awful had happened'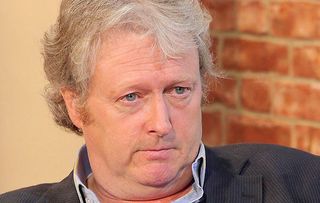 (Image credit: Ken McKay/ITV/REX/Shutterstock)
Charlie says he now feels 'very well'
Coronation Street star Charlie Lawson, best known as the soap's Jim McDonald, has talked movingly about the mini-stroke he suffered on stage earlier this month.
The 59-year-old actor revealed that he was halfway through a performance as Ian Rankin's legendary detective Rebus when he realised something was very wrong.
While in a scene with his co-stars he suddenly couldn't hear anything as he went deaf in front of the audience.
In an emotional interview on BBC Breakfast, Charlie recalled the moment, saying: "I was looking at John [Stahl, who plays Big Ger] and I was aware very quickly something was wrong. I went deaf, the colour changed, my vision changed."
Taking a moment to collect his thoughts, a clearly very emotional Charlie added: "The next thing was Big John put his arm around me and took me off stage."
Charlie explained that 20 minutes later he felt fine, but he said: "I knew something awful had happened".
He continued: "The next day [I] had all the scans and they revealed that I'd had a stroke."
Returning to the moment of his mini-stoke, Charlie said he knew something was about to happen to him.
"I was aware for about two or three seconds something was about to happen."
He also revealed that his co-star John's first thoughts was that he might be drying up on stage.
"Actors make mistakes, happens all the time, everybody does it in every play, and initially John felt I'd dried up. But it was more than that. For the tiny bit I was aware, I knew I hadn't a clue what was happening and then it all just went black."
Amazingly, Charlie was back on stage just two days later in his leading role. Charlie has four weeks left on the play and not surprisingly after that he's taking a break.
"I'm off to the Highlands. No signal, no phone, two dogs and my beautiful Debbie, who's looked after me."
Main Charlie Lawson pic: Ken McKay/ITV/REX/Shutterstock
Get the latest updates, reviews and unmissable series to watch and more!
Thank you for signing up to Whattowatch. You will receive a verification email shortly.
There was a problem. Please refresh the page and try again.