Coronation Street fans spot a sinister clue in creepy Mike and Esther's house
Coronation Street viewers are worried for Summer's safety!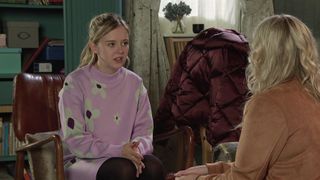 (Image credit: ITV)
Coronation Street viewers are worried for Summer Spellman's safety after spotting a very creepy detail in the background at Mike and Esther's house.
Could the misguided teenager be in danger?
Summer's involvement with Mike and Esther has been ringing alarm bells for weeks. First, there was the whole thing about buying Summer's baby idea. Though, let's be honest, Summer hardly covered herself in glory with that decision.
Then when Summer finally fessed up to taking Mike and Esther's money, and not bothering to tell them that she'd lost the baby, things got even darker.
She ended up breaking up with boyfriend Aaron, and taking herself off to spend a few nights in a hostel.
Talk about drama!
Eventually, Summer went to Esther and Mike's house to give them her wages, as the first part of repaying her debt.
At first, the strange pair were annoyed to see her, but Esther soon softened, and invited Summer in.
For a while it looked like Summer was going to work off her debt helping round the house.
Creepy enough.
But then Mike and Esther somehow managed to convince the troubled teen she could pay her debt by being their surrogate.
As 2023, dawned, Summer had agreed to be the creepy couple's surrogate, and had gone back home to dad Billy.
She even welcomed in the new year by locking lips with Aaron.
Aww. Everything's worked out perfectly.
Or has it?
Though Mike and Esther have been super nice so far - so nice, in fact, that it makes everyone a little uncomfortable - fans are predicting a dark side to the pair.
The sharp-eyed Corrie viewers spotted a sinister detail when Summer was hanging out in Esther and Mike's kitchen.
Dents in the fridge.
The viewers reckon the bashed fridge proves someone in the house - maybe Mike, perhaps Esther - has a temper, and they've been punching the fridge in a rage.
In fact, the Corrie viewers are speculating wildly about Mike and Esther's sinister intentions towards poor Summer.
Someone even suggested they have "people locked up in the basement"!
While another fan mused that Mike and Esther's house was a "mini-Gilead". Gilead is the name of the sinister republic in The Handmaid's Tale, which forces women to give birth to babies for infertile couples.
Things may be looking rosy for Summer right now, but if the Coronation Street fans are right, they're about to get a whole lot worse!
Coronation Street usually airs on Monday, Wednesday and Friday at 8pm on ITV. See our TV Guide for more information.
Get the latest updates, reviews and unmissable series to watch and more!
Kerry is a writer, author and editor with a lifelong love of the soaps, a passion for TV drama of all kinds, and an obsessive devotion to Strictly Come Dancing.
She was features editor of All About Soap magazine for more than a decade, covering every bit of excitement from all the UK soaps and the Aussies and still writes about all the juiciest gossip from the Street, the Square and the Dales whenever she can.
Kerry's also an author of historical fiction, and her two jobs collided when she got the chance to write two novels based on Emmerdale, and the Sugden, Tate and Dingle families, during WW2.
Thank you for signing up to Whattowatch. You will receive a verification email shortly.
There was a problem. Please refresh the page and try again.