Coronation Street star on Tim Metcalfe's Christmas betrayal with Gina: 'He's utterly devastated'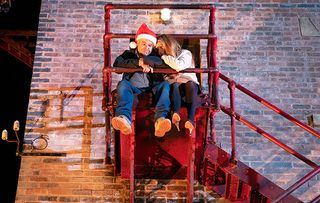 Tim wakes up on Christmas Eve and realises he and his sister-in-law went to bed together...
Coronation Street's Tim Metcalfe will find himself on Santa's naughty list – and wife Sally's - this Christmas, when he wakes up after a drunken night out and discovers that he has been to bed with sister-in-law Gina.
Horrified that he has betrayed Sally, who was recently stitched up by conman Duncan and wrongly convicted of bribery, fraud and money laundering, Tim pays his wife a visit in prison on Christmas Day and confesses to his betrayal. But where does this leave the Metcalfes' marriage?
Coronation Street actor Joe Duttine, who plays Tim, gives us the lowdown…
How does Tim feel when he wakes up next to Gina?
"He is utterly devastated that he has done something like this. He can't believe it. There will be a lovely little scene with Faye, where he breaks down about it. The thing about Sally and Tim is that they're monogamous; they love each other and are loyal to each other. They don't go off and have affairs - there are other things they can do with those characters. So he's utterly devastated to think that he has cheated on his wife."
Does he start to realise that Gina has misconstrued things?
"Yes, his loyalty shifts between the two women. At one point, he thought Sally had had the affair with Duncan, and that he didn't have this perfect life. While he was believing that, he was hanging out with Gina a lot; going to County matches together and playing darts. She has provided him with stuff that Sally never did – they've sat and watched zombie films together, which Tim really likes. But then this happens, and he starts to see that Gina has been quite calculating."
And has Tim missed the signs?
"Yes. The way we played it, it would've been wrong for Tim to have any sexual tension with Gina. I think that he just thought she was being nice. I really didn't want to play it any other way than that, and I hope that's how it has come across. I just think it would have been a bit obvious. I like that Tim and Sally are monogamous. They get their kicks from riding a tandem; not cheating on each other."
Does Sophie find out?
"Yes, she does. She's really not happy with Tim. Not happy at all."
So tell us what happens when Tim confesses to Sally…
"Well, he goes to see his wife in prison on Christmas Day – you'll have to suspend your disbelief a bit because I don't know if you can do that! He can't keep a lie; how can you do that? So he just throws caution to the wind and goes to tell her on Christmas Day."
Does he expect Sally to forgive him?
"I don't think so. I think it's pretty unforgivable, isn't it?"
Is he telling her to make himself feel better?
"I think he just feels he owes her the truth. In reality, I don't know how a family would overcome a man sleeping with his wife's sister. He's accused of not caring about Sally being in prison, and being out getting drunk and philandering."
Is discovering Gina's agenda enough to persuade Tim that Sally has been telling the truth about Duncan?
"Yes, I think so. It ends on a positive note. It's like a coming-together of minds. With Gina, I don't think she's ever had any success with men, has she? And suddenly she's having success - well, she thinks she's having success with Tim - and she can't believe it. She's like a teenager. She has fallen in love with her first boyfriend and gets very deluded."
Will Tim now try to help Sally by trying to get Duncan to confess?
"Yep. He's got to try and get Sally out of prison - Tim can't cope on his own, can he?"
How did you feel when you were told that Sally and Tim's relationship would hit the rocks?
"I wanted to protect it. As actors, you put a lot of time into your character and your relationship and eventually, over time, you sort of nick them off the writers. So when new writers come along and suggest stuff, you're like 'No, you can't do that!' So you do feel quite protective over them because we do get positive feedback, and with Tim and Sally, they're a likeable couple and it would be a shame to go down that route."
Coronation Street continues on ITV.
Get the What to Watch Newsletter
The latest updates, reviews and unmissable series to watch and more!
Alison Slade has over 20 years of experience as a TV journalist and has spent the vast majority of that time as Soap Editor of TV Times magazine.
She is passionate about the ability of soaps to change the world by presenting important, issue-based stories about real people in a relatable way.
There are few soap actors that she hasn't interviewed over the years, and her expertise in the genre means she has been called upon as a judge numerous times for The British Soap Awards and the BAFTA TV Awards.
When she is not writing about soaps, watching soaps, or interviewing people who are in soaps, she loves going to the theatre, taking a long walk or pottering about at home, obsessing over Farrow and Ball paint.