Dad's Army | DVD review - Toby Jones & Bill Nighy lead crack platoon in creaky remake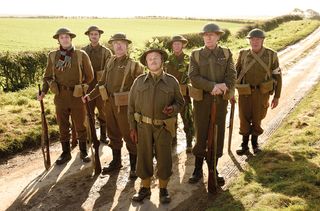 Eliciting affectionate smiles rather than guffaws, this Dad's Army remake does an adroit job of pushing nostalgia buttons – both those wired to the sitcom's Brits-at-their-best wartime setting and to its golden-age-of-TV heyday.
The cast could hardly be bettered. Toby Jones is a touching mix of pompous buffoonery and copper-bottomed decency as Captain Mainwaring. Bill Nighy brings his familiar suavity (too familiar, some might say) to debonair Sergeant Wilson. Michael Gambon is a joy as the gentle, doddery Private Godfrey and Tom Courtenay ideal as the excitable Lance-Corporal Jones, while co-stars Bill Paterson, Daniel Mays and Blake Harrison prove excellent fits for Privates Fraser, Walker and Pike
What a pity, then, that they've been given such ropey comic business as Mainwaring being chased by a bull or Fraser baring his bum.
The plot, which finds Walmington-on-Sea's Home Guard platoon sent into a tizzy by news of a Nazi spy in their midst and by the arrival of Catherine Zeta-Jones's glamorous reporter, creaks as much as Jones's delivery van but it gets everyone from A to B intact.
A modest accomplishment, perhaps, but not to be sneered at and somehow fitting for a celebration of the British art of muddling through.
Certificate PG. Runtime 100 mins. Director Oliver Parker
Dad's Army is released on Blu-ray & DVD on 13 June and is available on Digital HD courtesey of Universal Pictures UK.
http://www.youtube.com/watch?v=Nig2SQk6jx4
Get the latest updates, reviews and unmissable series to watch and more!
Thank you for signing up to Whattowatch. You will receive a verification email shortly.
There was a problem. Please refresh the page and try again.