Death In Paradise fans thrilled after that unexpected twist!
Death In Paradise viewers are delighted that season 12 didn't finish the way they'd predicted!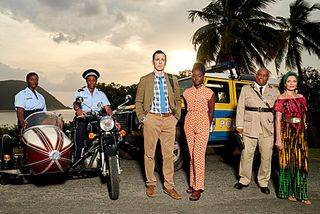 (Image credit: BBC / Red Planet Pictures / Denis Guyenon)
Death In Paradise fans have been convinced that DI Neville Parker was getting ready to pack his bags and wave goodbye to Saint Marie.
Poor Neville is a broken man after he discovered his girlfriend Sophie wasn't who he'd thought she was.
With Sophie in prison, and Neville questioning everything from his instincts to his future, things looked ready for change as the finale of season 12 approached.
Fans were busy predicting who would be the next detective to take over the sun-soaked role on Saint Marie.
Inbetweeners and Friday Night Dinner star Simon Bird was said to be the favourite to take over from Ralf Little, who plays Neville.
But Simon can keep his passport in the drawer for now.
Because at the end of last night's episode, Neville announced that he was staying in Saint Marie!
The season's satisfying finale, saw Neville investigate a murder that had happened right under his nose.
The detective felt awful that a man had been killed as he watched on oblivious.
And that, coupled with the heartbreak and confusion over Sophie's betrayal, led a confused Neville to start thinking Saint Marie would be better off without him.
He even told the Commissioner that he was thinking of leaving.
But after a heart-wrenching visit to see Sophie, Neville got his thoughts in order.
She told him that though she'd never had real feelings for him, she liked the person he made her become.
And that was good enough for Neville to get at least a little of his mojo back.
He was soon cracking the case, reuniting a mum with her long-lost daughter and making a VERY important decision about his future.
The show tugged at our heartstrings, though, with Neville not appearing in the final scene at first and fans convinced that meant he was heading home without even saying goodbye.
But to everyone's relief, he had instead decided he was staying in Saint Marie!
The fans were absolutely delighted at his decision, pronouncing it "BEST NEWS EVER" and Neville "a perfect fit!".
And there was more good news for fans of the show.
Shortly after the finale of season 12 aired, it was announced Death In Paradise would return for another season and a Christmas special!
Hooray!
We can't wait to see what Neville and his team get up to in season 13. Though perhaps Neville should steer clear of romance for a while!
Get the What to Watch Newsletter
The latest updates, reviews and unmissable series to watch and more!
Kerry is a writer, author and editor with a lifelong love of the soaps, a passion for TV drama of all kinds, and an obsessive devotion to Strictly Come Dancing.
She was features editor of All About Soap magazine for more than a decade, covering every bit of excitement from all the UK soaps and the Aussies and still writes about all the juiciest gossip from the Street, the Square and the Dales whenever she can.
Kerry's also an author of historical fiction, and her two jobs collided when she got the chance to write two novels based on Emmerdale, and the Sugden, Tate and Dingle families, during WW2.