Eamonn and Ruth on hosting This Morning over summer!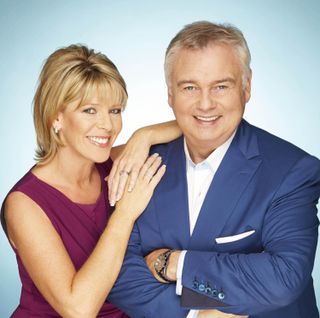 This Morning's Ruth Langsford and Eamonn Holmes tell TV Times magazine (opens in new tab) what floats their boat over the summer months. And why Eamonn is Ruth's perfect holiday rep...
You had a whale of a time posing for TV Times' pictures. Have you been on a cruise for real?
Eamonn: "I love cruises but unfortunately…"
Ruth: "I don't do boats. My mum's the same. Even the thought of a boat... On holiday last year, our hotel had a beautiful yacht to rent that took you round all the little coves and within 10 minutes I was green. I was upset because I felt I'd spoilt the afternoon as we had to come back early. It's a shame because on several family holidays I've tried really hard, thinking if I take a seasickness tablet I'll be fine. But I've been on small and big boats, and the result's the same."
Oh dear! Do you like going to the beach?
Ruth: "I hate the beach, especially the feeling of the sand in my toes. I use lot of sun protection because I'm so fair and sand sticks to it so it gets everywhere. So I'm definitely a poolside, on a padded sun lounger, kind of girl. Saying that, I like walking on the beach. I took our dog Maggie recently. As she's a rescue dog, I have no idea whether she's been to the beach before and at first she stuck to my leg as she obviously didn't know what to do. But, eventually, she loved running in the waves."
Eamonn: "I love the beach because when I was younger there was a dramatisation of Robinson Crusoe on TV and I've never lost that fascination. But I don't get to go there because my wife doesn't allow me to bring sand back into the house!"
What are your childhood holiday memories?
Ruth: "We didn't have money for hotels and my parents liked camping, and I don't mean on a campsite but in a field. We have fantastic pictures of our little tent with nothing around it. My love of hotels now stems, I think, from the time my sister and I were flying back from boarding school from wherever my dad had been posted in the army. I was about nine and our flight was diverted because of fog and we were put in a hotel. It was the biggest revelation – I don't think I slept and I took all the little bottles of shampoo. Which I still do, I can't help myself, even though I've got loads of them!"
Eamonn: "My family were more 'away day' type people. I have many memories of going around Ireland, not knowing where we were going to stay that night and just finding a B&B."
Have you had any standout holidays together?
Ruth: "We've just come back from Rome, where we went for a wedding and it was the most wonderful weekend that we've had in years. It's the most beautiful, romantic city – I felt like I was in a history book."
Which travel experiences are on your wishlist?
Eamonn: "The Northern Lights, Rio Carnival, Mardi Gras in New Orleans, and the Calgary Stampede in Canada as I'm really cowboy-orientated!"
Ruth: "You do look good in a cowboy hat! I'd like to go to Canada too, plus Sydney to see the fireworks on New Year's Eve and drive along the Pacific Coast highway in an open-top car!"
What must-have items would we find in your suitcase?
Ruth: "An extension cable because I've stayed in too many hotels where the plug is one side of the room and the mirror is the other. Earl Grey teabags and Marvel powdered milk because I hate UHT cartons and like a cup of tea as soon as I wake up. Eamonn thinks I'm mad. He doesn't even unpack – he lives out of the suitcase!"
What's your best piece of travel advice?
Eamonn: "Never stay in a hotel bedroom that's not as good as your own or what's the point?"
Ruth: "My advice is stick with my husband as he can work his way around every queue and always knows where he's going. When I travel with him I relinquish all responsibility. If he hid from me, I wouldn't even know what flight number I was on!"
Eamonn: "Ruth's terrible in an airport. They announce the flight's departing and she decides, 'I'll go to the loo now'. Our son is exactly the same. I just say: 'I'll see you on the plane - or maybe not'. They're always the last to board."
Ruth: "I've never missed a flight in my life. Have you?"
Eamonn: "No."
Ruth: "You are such a liar! You have absolutely have missed a flight. I don't know which one but you know you have, so don't tell lies! Look you're smiling..."
Eamonn: "OK. Usually at Belfast Airport, the check-in team see I'm on the list and book me in at the last second as they all know me. But once the plan fell through, the supervisor came over to say don't worry, we'll get you on the next one. That might have happened once."
Ruth: "So the answer is you DID miss a flight!"
Eamonn and Ruth host This Morning from Monday July 14 on ITV.
Thank you for signing up to Whattowatch. You will receive a verification email shortly.
There was a problem. Please refresh the page and try again.