EastEnders fans are BEGGING for this secret affair to happen
They want a pair of EastEnders to get it on – and be quick about it!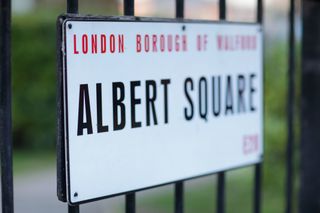 (Image credit: BBC)
There were some very sparky scenes in Thursday night's EastEnders, as two characters enjoyed a drink and a cosy chat – leaving viewers desperate for this flirtation to turn into something more.
We recently saw Denise catch the eye of Ravi when she popped into Walford East to book a table.

Following that, Denise stood up for Ravi after his son Nugget stole vodka from the Minute Mart and held a party at Jack and Denise's house – despite Jack's fury and Suki and Nish's criticism of Ravi's parenting.
Thursday's episode opened with Ravi surprising Denise when he presented her with a some wine and chocolates to thank her for having his back over the incident with the kids.

Meanwhile, Denise was feeling left out in the cold with her family after Amy began self harming again, both Amy and Jack pushing her away when she tried to support them.
Deciding to drown her sorrows after an argument with Jack, Denise headed to Peggy's to calm down – which was where Ravi spotted her and offered to join her for a drink.
Soon, one drink became several and the pair were getting on like a house on fire.

"Either you are drunk or you are a terrible, terrible flirt," Denise joked with him when Ravi flattered her over her age.

But while Denise clearly had Ravi's game sussed, she was enjoying the escape from her home life – and the obvious flirtation.

Later, Ravi walked Denise back home, the pair strolling arm-in-arm and clearly quite drunk – proven when Denise almost took a tumble, much to their amusement.

But is was as they were about to say goodbye that things took a turn, as Ravi moved in to kiss Denise.

Of course, Denise is a married woman, and let's not forget that Ravi is an actual murderer. So, this situation has got 'bad idea' written all over it.
But try telling that to EastEnders viewers! They were totally on board with the thought of this dangerous new romance. In fact, they were practically begging Denise to respond to Ravi's advances.
"PLEASE kiss him," pleaded one. While another, clearly caught up in the excitement, echoed, "Kiss him - we need to live vicariously through you!"

One summed it up with: "Denise, you have full permission to have an affair with Ravi."
However, these lusty fans were left disappointed after Denise gave Ravi the cold shoulder and headed home.

But as she entered the house, did we see her change her mind when she paused for a moment and seemed to turn back towards the front door? Sadly, we'll never never know as Jack then arrived in the hall, full of apologies.

As the couple embraced, Denises's expression looked troubled. Was she thinking of Ravi?
Of course, Denise is no stranger to a tumble with a muscle-bond younger fella – remember Kush? – but will she really put her marriage on the line for a fling with Ravi?
EastEnders airs Monday, Tuesday, Wednesday and Thursday evenings at 7.30 pm on BBC One — see our TV Guide for full listings. You can also catch up on episodes on BBC iPlayer now.
Get the latest updates, reviews and unmissable series to watch and more!
Steven is a writer, editor, and commentator with a passion for popular TV and soap operas. He spent 20 years as the editor of Inside Soap magazine, documenting every punch-up and pucker-up in the Street, the Square and the village. As a feature writer, he's covered TV crime dramas, period dramas and even some real-life star dramas. He's been seen as a talking head on more TV clip shows than he cares to remember, has a life-long passion for TV sci-fi – the older and creakier the better – and is a slight obsessive about any reality show featuring hotels.
Thank you for signing up to Whattowatch. You will receive a verification email shortly.
There was a problem. Please refresh the page and try again.