EastEnders fans predict HOT new twist for Freddie Slater and Bobby Beale
EastEnders viewers can see a spark between the besties.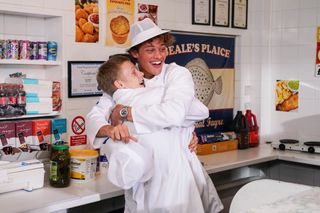 (Image credit: BBC)
EastEnders fans have been enjoying watching the bromance between Freddie Slater (Bobby Brazier) and Bobby Beale (Clay Milner Russell) flourish over recent weeks.
And viewers are predicting 2023 could see the lads' friendship developing into something more.
Might Bobby and Freddie be Walford's next love match?
Cheeky charmer Freddie burst onto our screens in September when he returned to the Square for the first time since he was a baby back in 2006.
The character is played by Bobby Brazier, the son of the late Big Brother star Jade Goody, who sadly passed away from cervical cancer in 2009. EastEnders is Bobby's first acting role and he's previously worked as a model for major fashion labels such as Dolce & Gabbana.
Freddie instantly caused a stir in Walford when he stole a bap from Stacey Slater's stall and tried to bunk the Tube without paying for the fare.
Bobby stepped in and offered to pay for Freddie's ticket, saving him from receiving a whopping fine.
And from that moment a beautiful friendship was born.
When Freddie decided to get a job to help out his family, kind-hearted Bobby gave him a permanent gig at the chippy.
He was also there to offer his new mate advice and support when Freddie made the devastating discovery that Billy Mitchell wasn't his real dad.
The besties are now looking forward to welcoming the New Year in together after Bobby secured them tickets to a music gig.
And fans have taken to social media, saying the boys' banter is giving them serious couple vibes.
In fact, they're convinced Bobby and Freddie are crushing on one another.
However, some fans are wary of Frebby moving in a romantic direction, concerned it could ruin their friendship.
Bobby has been single since splitting from Dana Monroe in the summer. The pair enjoyed a short, but sweet, romance, which was Bobby's first serious relationship.
And Freddie has yet to have an on-screen love interest... but might that all be about to change?
EastEnders usually airs from Monday to Thursday at 7.30pm on BBC One. Check our TV Guide for more information.
Get the latest updates, reviews and unmissable series to watch and more!
Laura has been a journalist for over a decade, writing about soaps, TV entertainment, fashion, beauty, and food. After graduating from university, she started her career working at a national soap and TV magazine. During her seven-year stint there she joined the cast of Emmerdale for a tour around the famous village, partied with soap stars at awards bashes, interviewed her acting idol David Suchet, and sat in the front row of Strictly Come Dancing.
Her heart lies with the soaps, and her all-time favourite character has to be EastEnders' Pat Butcher - no one rocked a big earring quite like her. She's also a huge fan of detective crime dramas, particularly old school Inspector Morse, Endeavour, and adaptations of Agatha Christie's Marple and Poirot. When she's not writing, she loves a spot of second-hand shopping and going on adventures with her young son.
Thank you for signing up to Whattowatch. You will receive a verification email shortly.
There was a problem. Please refresh the page and try again.