EastEnders to air HUGE fight between Mitch and Gray tonight... but what has Mitch discovered that's got him lashing out?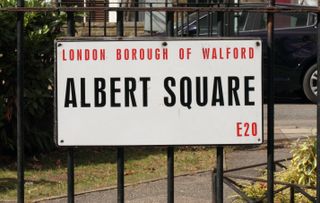 (Image credit: BBC/Jack Barnes)
There's huge drama heading for EastEnders tonight when Mitch Baker and Gray Atkins come to blows, much to everyone's horror...
It's no secret that Mitch Baker and Gray Atkins have never seen eye-to-eye, but tonight's EastEnders sees their long-running feud come to a head when the pair let their fists do the talking. But what has got the desperate dad lashing out at his son-in-law?
Ever since Gray and Mitch first met, the pair have been like chalk and cheese. But until recently viewers thought that Gray was the perfect husband and father... unlike Mitch who has never been there for his kids while they were growing up.
However, it was recently revealed that there is more to Gray and Chantelle's marriage than meets the eye when viewers saw Gray abusing his wife behind closed doors.
But how would Mitch feel if he knew his daughter was secretly the victim of domestic abuse?
Tonight's EastEnders gives Gray just a little insight into what he can expect from his father-in-law should it ever be revealed what he is subjecting Chantelle to... because if these pictures are anything to go by, Mitch clearly isn't a man you want to find yourself on the wrong side of.
The drama in today's visit to Walford is all down to Keegan announcing that he is going to quit school after spending the day with Gray at his office.
The teenager is oblivious to the fact Gray is hiding a dark side and idolises his sister's husband. But  despite the fact Gray's work has inspired Keegan to want to do more with his life, Mitch is fuming that he wants to leave school.
Seeing red, Mitch marches over to Number 1 Albert Square to confront his son-in-law himself. But as soon as the pair come face-to-face all hell breaks loose as a furious Mitch goes head-to-head with Gray.
MORE: Coronation Street fans stunned to spot THIS very familiar face on the cobbles 
Weeks of pent up hatred for one another comes flooding out as the men hurl insults across the room, and before anyone knows what is happening, they start letting their fists do the talking, much to everyone's horror.
But while Chantelle is set to be fuming with her dad for fighting with Gray, is there more to her anger than meets the eye?
Viewers know that every time Gray gets angry he lashes out at Chantelle, so could Mitch's fight with Gray inadvertently leave his daughter in danger?
EastEnders will air these scenes tonight, Friday 26th July, at 8pm.
EastEnders airs Monday and Friday at 8pm and Tuesday and Thursday at 7.30pm on BBC One.
Get the latest updates, reviews and unmissable series to watch and more!
Thank you for signing up to Whattowatch. You will receive a verification email shortly.
There was a problem. Please refresh the page and try again.